Stevenson University's theatre and media performance department is bringing a feminist production of "Hedda Gabler" to its black box theater for an immersive experience for the audience.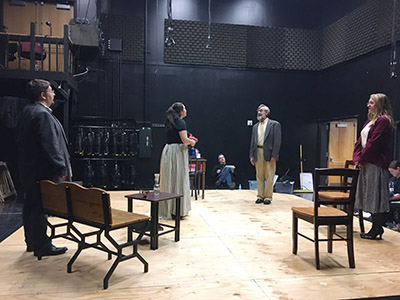 Showtimes run from Nov. 7-16 in the black box theater in the Dawson Center. Ryan Clark, program director of theatre and media performance and associate professor of theatre, returns as director, and junior, Liv Dinter, has the lead role of Hedda Gabler.
Performing alongside Dinter are students Emily Bartles, Adam Nelson, Matt Van-Nostrand, and legal studies professor Harry Turner. This is Turner's first production at Stevenson, but he has experience in other theater productions, according to Clark.
Clark chose this early feminist production for Stevenson because it is one of his favorite plays. He describes Hedda Gabler as complex and "not an easy character" because she makes a combination of realistic and dramatic choices.
Dinter agreed that Hedda Gabler is a multidimensional but also a challenging role to play. Female roles "were not often written to be as complex and fascinating as their male counterparts" during the time "Hedda Gabler" was written, said Dinter.
The actress has been involved in Stevenson's theater productions since her first-year role as The Interesting Man in "Eurydice." Since her first Stevenson production, Dinter believes she has grown to trust herself and her instincts as a performer.
Being cast as Hedda Gabler was a dream role for Dinter. When she received the news that she had won the part, Dinter's immediate reaction was, "This is what I was meant to do. This is why I'm here," she said.
Dinter is no amateur when it comes to theatre productions; "Hedda Gabler" is her sixth Stevenson production. Dinter also attended a performing arts high school to prepare for her life-long dream.
"Hedda Gabler" will be performed in a theater-in-the-round style, with the stage surrounded by audience seating. Clark chose this setup to match the play's motif of the protagonist feeling trapped and observed, according to Clark. He also wanted to create a more intimate environment for the performers, crew, and audience.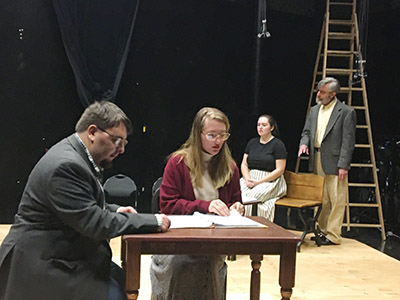 The theatre program at Stevenson regularly produces three productions every year, typically a play, a musical, and a small-scale production. Students usually have more creative and directorial freedom in the small-scale productions.
Stevenson University's theatre program is designed to further careers in acting, voice acting, stage managing, and more. Theatre alumni, Jordan Brown, describes Stevenson's theatre program as "a gem of an experience" for any student considering the program.
Brown acted in eight Stevenson productions during his four years as an undergraduate, including "The Importance of Being Earnest," "Eurydice," and "The Shape of Things." Costume is Brown's favorite aspect of theatre because clothes are a defining feature of a character, and Brown enjoys walking in each character's shoes. His favorite production was "The Importance of Being Earnest."
The opening show is Thursday, Nov. 7 at 7 p.m. Tickets are $10 for adults and $5 for students, staff, faculty, and senior citizens. The box office, where tickets are purchased, can be reached at 443-334-2618.