The Stevenson University women's volleyball team has a 58-0 Middle Atlantic Conference record that spans over seven years. Now en route to win his 8th consecutive MAC championship, head coach Dave Trumbo offered some insights about what helps build the championship DNA of a volleyball program, as the Mustangs head down the home stretch with a record of 23-2.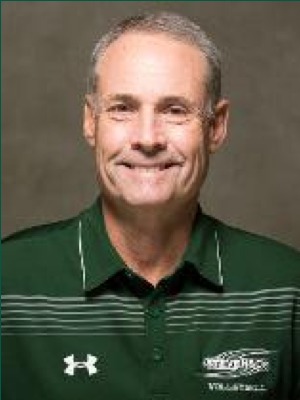 Though much has changed in the past years at SU, one thing at the university remains constant: the women's volleyball team wins — a lot. Trumbo has developed a program that has allowed himself to be recognized as a top-10 winningest coach of all time in Division III athletics.
Trumbo said that the first hurdle to becoming a MAC conference juggernaut was being able to recruit and get athletes to want to attend what was at the time Villa Julie College. The focus on recruiting was and still is directed at bringing in athletes who are "excellent students and students who are going to be here [Stevenson] for four years," said the coach. Much of the program's recruiting process over the years has simply been reaching out to "good players who really do love volleyball," said Trumbo.
Once the athletes have come onto the campus as students of the university, the competition begins. Trumbo's philosophy is that "you can never have enough good players," and so with that, every practice is important and competitive.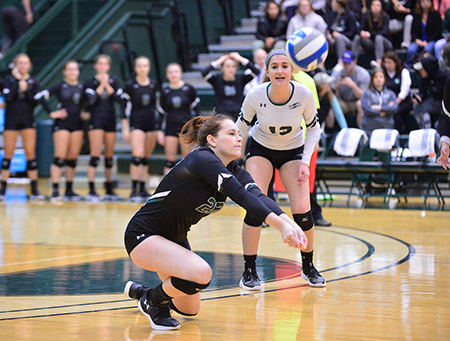 In addition, the coaching staff as a whole works extremely hard watching film and doing their best to prepare the team for each match. Because every player knows that during practice, they are playing alongside the best team in the conference, practices themselves look like games. Sophomore outside hitter Lauryn Davis said, "Every day we practice like it's a game, so when game time comes we're prepared," adding, "we push each other to be better, and we expect nothing but max effort and success from one another."
The team has never lost a MAC game and are hoping to host the conference finals this November. Through all these years of success, Trumbo is still motivated by winning through the spirit of competition.
Moriah Savage, a recent Stevenson University graduate and volleyball player, said that her time at Stevenson was largely impacted by the success of the program and added that she was "extremely proud to come here as a winner and leave here a winner."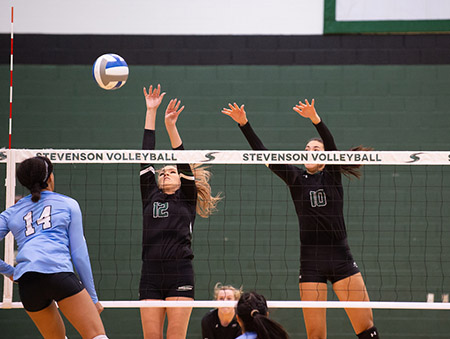 Most would agree that Trumbo has created a successful program off the strength of finding great students who are dependable and responsible and love the sport. Mixed with the competitive nature that is instilled within the team, this creates the identity for a program that is able to win seven consecutive championships. Trumbo wants to be remembered as a leader who was "competitive and really cared about his players."
Hoping for their 24th win of the season, and the chance to remain unbeaten, the Mustangs faced another unbeaten team in No. 9 Johns Hopkins on Oct. 17. Despite strong first efforts in the first two sets, Stevenson lost to Hopkins 3-1. In a gym packed with over 550 spectators that evening, the SU women's volleyball home streak win record was snapped, according to gomustangsports.com.
The Mustangs' 23-match win streak through the season finished tied for the best in program history. Then, on Oct. 22, the Mustangs lost in four sets to the Marymount Saints in Virginia. Those two losses are the only games the Mustangs have not won this fall.
The MAC Commonwealth first round begins Nov. 4; however, before then the team has three upcoming conference games to close out their season. The final conference home game will be on Oct. 29 against Alvernia University at 7 p.m.