Women's volleyball secures top seed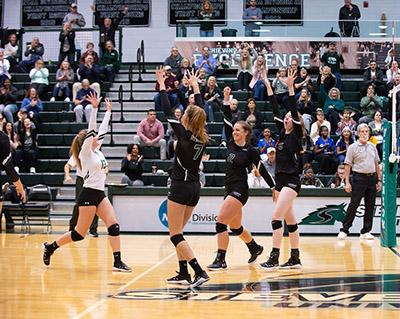 The Stevenson University women's volleyball team, coached by Dave Trumbo, is hoping to win another Middle Atlantic Conference championship this year, securing a bid to the NCAA tournament.
After coming off of two tough losses back to back to Johns Hopkins University and Marymount University, the team knew they had to bounce back. The Mustangs responded well, earning a 3-0 victory at Lycoming College on Oct. 26.
Head coach Dave Trumbo explained that this team knows what it takes to win, since they have done it before. The team includes five seniors who want to go out on top once again, and they all believe that they can.
In the game against Johns Hopkins, Trumbo explained that the Blue Jays were ranked No. 9 in the nation, and although Stevenson played well they didn't play consistent enough. However, Trumbo said that he was pleased with the crowd turnout and how the team was able to engage the crowd in the game.
Senior setter Julie Nightwine explained how losing to both Hopkins and Marymount was a wake-up call. Up until this point in the season, the Mustangs thought they were invincible, she said, and the losses emphasized things the team needs to work on, while also highlighting what they do well.
The one key to success for this team is having meaningful and fun practices that motivate and encourage the players to keep going. Trumbo said that no one is ever standing around; they are all always practicing, getting stronger, and being competitive, a trait on which the team thrives.
Besides practice, the team has regular pre-practice meetings and participates in team bonding activities. Nightwine described how the team tries to do a bonding activity twice a month, focusing on doing something together other than volleyball.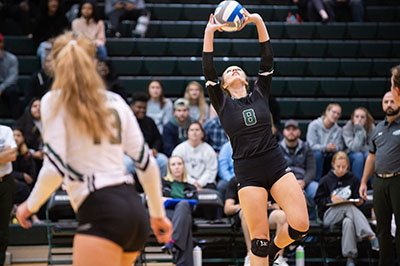 The team has had countless amazing seasons over the past couple of years. Trumbo explained that they recruit students well, pushing for them to come to Stevenson for academics because at the end of the day that is what gives college meaning. He added that getting to play volleyball is an added bonus. Trumbo said that "success breads success," so students want to play for a team that generally does well.
The Mustangs have two more regular season games before they begin playing in MAC playoffs. According to Trumbo and Nightwine, these remaining games are important. The Mustangs clinched the No. 1 seed in their game against Alvernia University on Oct. 29., according to gomustangsports.com.
By winning the Middle Atlantic Conference championship, the Mustangs receive an automatic bid to the NCAA tournament. Stevenson has brought home this title for the past seven years.
The Mustangs next match is at Hood College on Thursday, Oct. 31 at 7 p.m. where they will finish out conference play.
Donate to Stevenson Villager
Your donation will support the student journalists of Stevenson University. Your contribution will allow us to purchase equipment and cover our annual website hosting costs.