Stevenson women's ice hockey team is gearing up for their third year in the Middle Atlantic Conference (MAC) after battling strong competition in the beginning of the season.
The Mustangs had an exhilarating season opener against University of Massachusetts Boston on Nov. 1, 2019. Junior Annika Carlander had a career high of 28 saves that game, holding the Beacons to a 1-1 tie after two overtimes, according to gomustangsports.com.
Carlander earned MAC (Middle Atlantic Conference) defensive player of the week for her performance against UMass Boston. She also earned United Collegiate Hockey Conference (UCHC) honors along with her teammate, freshman defender Ashlyn Bray, who was named Rookie of the Week.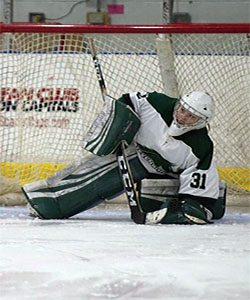 The Mustangs scored another shutout against New England College in which they blanked the Pilgrims 3-0. Two freshmen, Karly Aguirre and Bray, netted their first career goals. Bray posted two blocked shots and a powerplay goal, adding to her first three blocked shots against UMass Boston.
Their home opening weekend gave them confidence and momentum moving forward, according to Tori Emoff, SU alum and first-year head coach. Emoff is beginning her first season as head coach of the Mustangs after being a part of the inaugural Stevenson women's ice hockey team herself, graduating in 2016.
Emoff said she wants to make sure this team has "confidence not comfort" with their play, which she said is exemplified well in the five seniors on the team who set the standard.
Senior goalkeeper Annie Smyth-Hammond said, "The coaches have a real passion for the game, and it shows in how they coach us each day. Everyone is feeling really energized and ready to go this season." She said it is exciting to be a part of this team.
The following weekend, the Mustangs fell to Neumann University on Nov. 9 when junior Kira Collins scored her first career goal. Then the Mustangs suffered a tough 2-1 overtime loss to Manhattanville College on Nov. 10, when sophomore Ally Gibson also netted her first career goal. The Valiants scored just 1:15 into the first overtime period.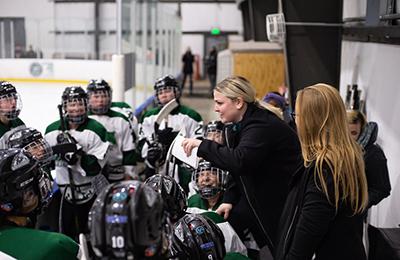 Emoff also talked about the potential of this team, and thinks their culture can carry them to great things. After enduring tight losses to very competitive out-of-conference teams, the Mustangs will look to bounce back with a win to start conference play.
As the 2017-18 inaugural MAC champions, the Mustangs were favored to finish first in the MAC coaches' preseason poll. The 2018-19 winner, Manhattanville, moved out of the MAC, and Alvernia University entered the conference this year. The Mustangs are 11-0 against their current opponents in conference.
Their next game will be at the Reisterstown Sportplex on Friday, Nov. 15 against Lebanon Valley College, who was picked to finish second in conference. The Mustangs will also face Chatham University at home on Nov 16.