On Wednesday, Nov. 19, Sodexo Dining Services will host a Thanksgiving-themed lunch and dinner in the Rockland Marketplace.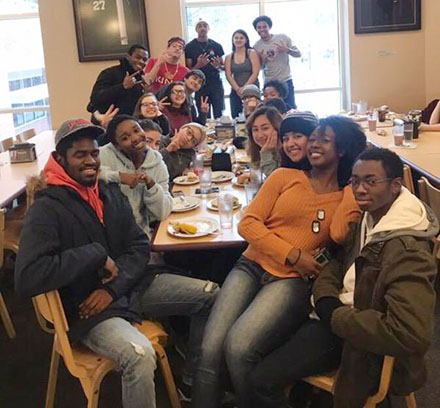 According to Mitchell Oliver II, the general manager of Sodexo at Stevenson University, both the lunch and dinner will offer "traditional" Thanksgiving foods such as mashed potatoes, turkey, and pumpkin pie. In addition to turkey, lunch will include carved ham, and dinner will offer carved prime rib, both crowd favorites. Junior Cassie Myers said the turkey and gravy were her favorite foods on the 2018 menu.
Oliver also said there will be live entertainment; two years ago band Sweet Society provided live music, he said. The staff will decorate Rockland Marketplace with fall-themed decor and will be reorganized to better host the buffet-style meals.
The purpose of the Thanksgiving-themed meals is to provide a comforting environment for students to spend time with friends they might not see on Thanksgiving Day. Sophomore Keyshawn Makell said his favorite part of Sodexo's Thanksgiving meal was being able to be around friends in what he called a "family-esque" atmosphere.
Historically, the story of Thanksgiving is nearly 400 years old. According to the History Channel, the first Thanksgiving was Thursday, November 28, 1621, in Plymouth, Mass. About 50 English colonists and 90 Native Americans attended the three-day feast and celebration.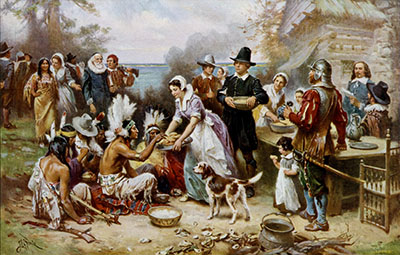 Aside from celebrating togetherness, the origin of Thanksgiving is also connected to religious backgrounds; the original settlers used the feast as an opportunity to thank and pray to God. According to World Religion News, religious services were notable events on the Thanksgiving itinerary.
There is controversy surrounding Thanksgiving and its origins because it is no secret that the relationship between European colonists and Native Americans was seldom friendly. Throughout history, European settlers killed millions of Native Americans. According to some projections, more Native Americans were killed in North America than Jews in Germany during the Holocaust, according to History Channel writer Donald L. Fixico.
There is also debate about the actual first Thanksgiving; some historians consider any one of the small feasts and celebrations among colonists before 1621 to be the first Thanksgiving. All of these colonial feasts still had similar reasons for celebrating: appreciation for the season's harvests, gratitude for life, and recognition of togetherness, according to an article by Business Insider.
In 1863, President Abraham Lincoln established Thanksgiving as an annual national holiday in November.
Modern-day Thanksgivings also celebrate gratitude and togetherness, complete with a large feast to feed a large group of people. However, many of those who celebrate Thanksgiving don't know or don't acknowledge the the questionable history of the day.