The Stevenson men's ice hockey team is heading into their season hoping to start strong and build upon last season's growth, according to head coach Dominick Dawes.
This season is special to the team as the players who were members in the inaugural season are now seniors, and as Dawes said they are trying to establish a legacy. Dawes added that the team needs to get going on the right foot and stay healthy throughout the season to achieve success.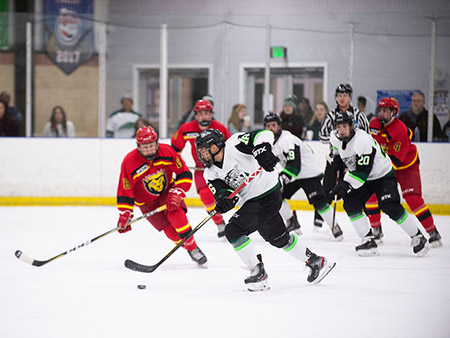 Sophomore forward Ryan Patrick said that as a team their expectations are to make the playoffs, just as they had in the previous year. Patrick also makes a point to say that this is just the beginning of what they want to accomplish.
The team was disappointed with how last year's season ended leaving a bitter taste in all of their mouths, said Patrick. Along with making the United Collegiate Hockey Conference (UCHC) playoffs they have their sites set on winning a Middle Atlantic Conference (MAC) title, he added.
With rigorous conference play throughout the season, Dawes said that forming good habits and sticking to them will be keys to the team's success. He added that in a lot of close contests, doing the little things is even more important.
Looking forward to the 2019-2020 season, Dawes said that he believed this team would be closer off the ice, as it is mostly the same group as last season. He added that the team's strength last year was centered in their defense, but they lacked scoring power, as they failed to finish around the net.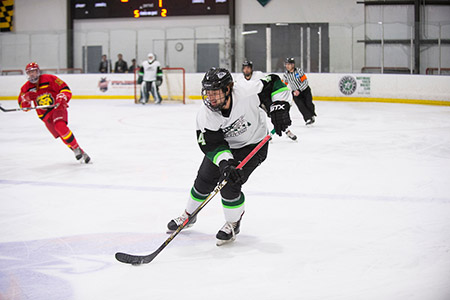 With many players on their roster playing junior league hockey before coming to Stevenson, it gives the team an interesting dynamic that many other teams don't experience. Dawes explained that when players come to college after playing several years in junior league hockey, they are much more mature both physically and mentally, along with having life experience and understanding responsibility.
Patrick, who played in the North American Hockey League for the Philadelphia Rebels for two years before attending Stevenson, explained that junior league hockey taught him the business and professional side of sports. He added that many players don't gain this experience until college or after graduation.
Playing in junior league hockey helps a lot of players take the sport more seriously, as they witness firsthand what it's like to see teammates traded or even dropped, said Patrick. At such a young age, these experiences can be eye-opening, and they also enable players to experience what it's like to be a professional before actually being there, he explained.
The Mustangs opened the season with a conference victory over Kings College (3-1). The Mustangs fell behind 1-0 only 1:06 into the contest, according to gomustangsports.com. The Mustangs then tied the Lions late in the first period with a goal from junior forward Houston Wilson.
Midway through the second period junior defenseman Aaron Murray netted the Mustangs second goal on a power play. About halfway through the third and final period Chad Watt deflected a shot from Martino Picariello, lighting the lamp for the third time in the contest.
The Mustangs defeated Chatham University (6-3). The Mustangs then return home to face Wilkes University Friday, Nov. 15 at Reisterstown Sportsplex.