On Nov. 1, Stevenson University hosted the annual "Stevie U 72" film festival. In this competition, participants must write, shoot and edit a film in under 72 hours. Students met on Nov. 1 to learn about the competition's rules and had to submit their projects by Nov. 4. On Nov. 8, the students work was presented in the School of Design to be judged.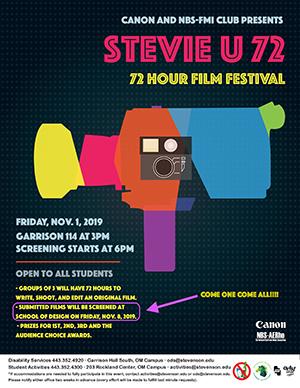 The competition included three requirements for each film, according to the film and moving image blog: "1) include a rubber duck; 2) include the number 72, spoken or seen; and 3) include a dutch (canted) angle."
This is the third annual film festival hosted by the National Broadcasting Society and Stevenson's Film and Moving Image Club. The festival is managed entirely by the NBS/FMI club, with help from department chair and professor Christopher Reed.
"The more students get to practice their craft, the better for them," adding an explanation of how the 72 hour deadline affects the students. "We as human beings respond well to pressure and deadlines, and it often fires our creativity when we know we need something done by a certain time," Reed said.
The competition's three judges – Stevenson University President Elliot Hirshman, Towson University professor Jena Richardson and Howard Community College professor Anthony Hoos – chose three winners, and the audience voted on their favorite as well. Here is the list of winners from the FMI blog:
1st Place: Torrey Dolan
2nd Place: Tyler Albizo, Bryan Auman, Nick Hawdon, Kayla Moore and Camden Praisner
3rd Place: Zoe Maliszewskyj
Audience Award: Torrey Dolan
The grand prize was an EOS Rebel T6i EF-S 18-55mm camera from the competition sponsor, Canon USA.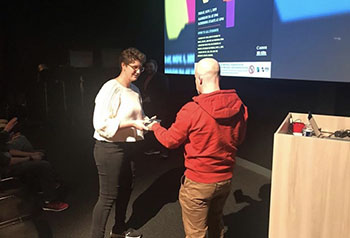 Students did not need to sign up in advance for this competition, and participants did not have to be film students in order to participate. The film and moving image department sent out a massive email in hopes of encouraging not only film students but all others to get out of their comfort zone and take part in this contest.
Once students finished their films, they then submitted their projects into a Dropbox folder. "This submission process," explained Reed, "makes it much easier for the students rather than them having to show up somewhere," and possibly miss the deadline.
The FMI club welcomes all who want to participate in similar fast-paced projects with other students.
John Travers, president of the FMI club, explained the impact this event has had on former and current students.
"Film and non-film students have come up to me and told me how daunting they thought it was in the beginning, but then once they reached the end it showed to be very rewarding," he said.
Samantha Salvemini, treasurer of the FMI club, added, "When you're working together in a group like that and have this really tight deadline, it teaches you about working together and makes you closer with your peers."
The FMI club also hosted cinematographer John Benam on Nov. 6. Benam talked about his work, and students got a screening of his Netflix series, "The Keepers." Every year the FMI club host events like these in order to better prepare their students for what life after graduation has in store.