The Stevenson women's basketball team opened their 2019-2020 campaign with a 63-54 win at York College of Pennsylvania on Nov. 12. Four freshmen saw action in the victory.
Three Mustangs scored in double-digits for the win: junior Brandi Hall had 17 points, junior Olivia Coleman had 14, and freshman Morgan Pennick had 10.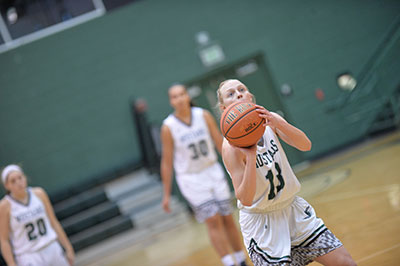 The Mustangs welcomed 10 freshmen and two transfer students to their roster in the off-season, an increase from just eight returning players from last season to 20 players in the current season.
Senior guard Hannah Crist, one of only six upperclassmen on the roster, has assumed more of a leadership position this season to help the new players learn their roles on the team.
"Each player is starting to understand their role for the overall team. Everyone is excited about all the new additions and it has encouraged us more in practices, scrimmages and games," said Crist.
As one of only two seniors on the roster this year, Crist has to show her leadership on and off the basketball court.
"I know I need to be a role model for the new players, not just on the court but off it as well," explained Crist. "Many freshmen look to me and Savana (Herndon, the other senior on the squad) for advice and try to follow the way we do things here."
Maleah Smith, one of the 10 new players for the Mustangs this season, and one who saw court time in Stevenson's first match against York College of Pennsylvania, has had no problem in adjusting to the team's style of play.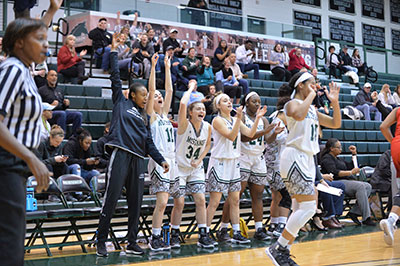 "The upperclassmen and staff have been very good at giving out the necessary information we need and supporting us as we begin our collegiate journey," said Smith.
She added that her teammates have helped her transition to college life. Seniors like Crist and Herndon have been crucial to helping the 12 new student-athletes adjust to the collegiate life.
"Their leadership has helped me already," said Smith. "They've made sure that I felt included and a part of the team as soon as I walked on campus and into the locker room."
For practices to run smoothly and for scrimmages to be competitive, explained Crist, everyone in the gym needs to be on the same page, understanding how the team plays.
Crist will look to lead her team to victory in the Mustangs' next two contests on Nov. 22 and 23, against Apprentice School and Southern Virginia at Eastern Mennonite University in Harrisonburg, Va. The game on Friday is at 7:30 p.m., while the contest on Saturday is at 1:30 p.m. Interested spectators can watch the team via GoMustangSports.