Stevenson's football team, now in its 10th season, finished up the 2019 regular-season with a record of 8-2 overall. The Mustangs went 7-1 in the Middle Atlantic Conference (MAC), and for the sixth straight year are preparing for post-season play to compete in the MAC-Centennial Bowl.
Despite coming off three impressive MAC wins and an equally strong conference record, the Mustangs missed an NCAA berth because of their loss to MAC foe, Delaware Valley University. The Aggies have proven to be Stevenson's nemesis for 10 years, and their 2019 conference record of 8-0 got them the automatic NCAA bid for 2019.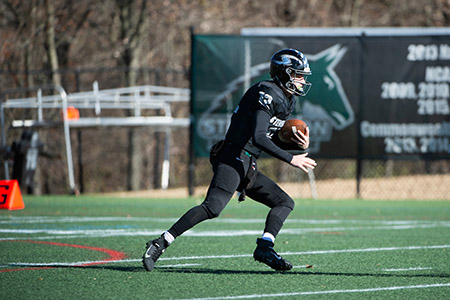 The Mustangs' additional loss to Bridgewater College also complicated the chance of getting an at-large bid, according to MAC executive director Ken Andrews. He said it is rare for a Division III team with two losses to get an at-large bid. Ironically, Delaware Valley will play at Bridgewater in the first round of the NCAA playoffs.
The Mustangs' last three games — wins over Lebanon Valley College (43-13), Wilkes University (42-21), and Lycoming College (31-0) were evidence of the growing strength of Stevenson's team, as they ended the regular season with seven straight wins.
Stevenson racked up an average of 291 passing yards per game during the regular season in conference, with over 141 average rushing yards per game, according to gomustangsports.com. The team averaged almost 19 yards per game on kick returns, and the team's red zone percentage was 80 percent. The Mustangs had 16 sacks on the season against conference opponents.
Thirteen Mustangs were named to the MAC All-Conference team, including first-team selections senior wide receiver Chaz Lyles, senior center Ryan Nowicki and senior linebacker Izaiha Pitts.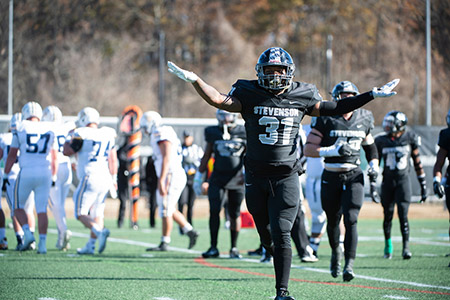 Second team selections included sophomore quarterback Ryan Sedgwick, junior tight end Deion Mason, senior offensive lineman Manny Essien, junior offensive linemen Dan Glazewski and John Wadkins, junior defensive lineman Don Jones, senior defensive lineman Chikwado Nsoedo, senior linebacker Hanif Jones and junior defensive back Garston Banks.
Freshman fullback Seth Diorio was given an Honorable Mention All-Conference.
In the MAC-Centennial Bowl game on Nov. 23, the highest seed in the MAC who did get get an NCAA bid, takes on the second-highest team from the Centennial Conference that also did not earn a bid. Thus, Stevenson will play Johns Hopkins University, a team that finished 7-3 overall.
Tickets for the 1 p.m. game will be available at Mustang Stadium's ticket window for adults for $5, and students with an ID can purchase tickets for $2. No complimentary tickets will be available. A percentage of all ticket sales will be donated to Special Olympics on behalf of the NCAA Division III Student-Athlete Advisory Committee (SAAC).