SU encourages Thanksgiving activities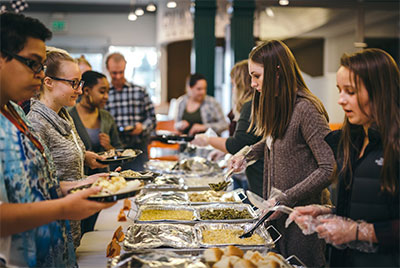 As the fall semester nears its end, Stevenson University has been preparing for various Thanksgiving activities– as well as encouraging volunteerism in the local community.
Thanksgiving is a national holiday dedicated to celebrating and giving thanks for the previous year's blessings, according to David Silverman, a contributor for Britannica.
The Best Buddies club is a national organization dedicated to enhancing the lives of people with intellectual disabilities. The club held a 'Friendsgiving' on Nov. 10 at Ratcliffe.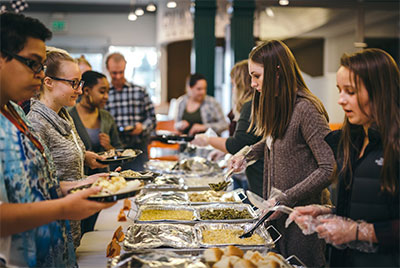 Members and their buddies came together to celebrate the holiday with food, bingo, prizes and friendship, according to junior Kailyn Pater, who is a member of the club.
Before dinner began, one of the buddies said "I just wanted to say thank you to all of my best buddies for making me feel like I'm a part of something," which Pater said was a heart-melting moment.
Stevenson's Campus Crusade for Christ (CRU) organization, a non-denominational Christian fellowship group, hosted a "Friendsgiving with CRU" on Nov. 13. They invited students to sign up for a free holiday feast, a chance to meet new people and engage in a spiritual conversation.
Junior Sierra McGee is a member of the leadership team for CRU. "It was nice to have people who are of faith and those who are not in one setting," said McGee. "Being able to come together and be thankful for the same things, regardless of differences, was really special."
While it is a time to express gratitude to friends and family, Thanksgiving also gives people the chance to give back to their community through volunteer opportunities. "[Thanksgiving] is a great excuse to do something good for someone else," said Pater, "accompanied with the possibility to earn service hours."
A helpful resource to locate events in need of volunteers and sign up for events at the same time is eventbrite.com.
The 5th Annual Thanksgiving Basket Drive, held by Building Our Nation's Daughters (BOND), works to serve single-parent families in Baltimore City. BOND lists several ways to help the organization reach their 2019 goal, such as donating canned foods and non-perishables until Friday, Nov. 22.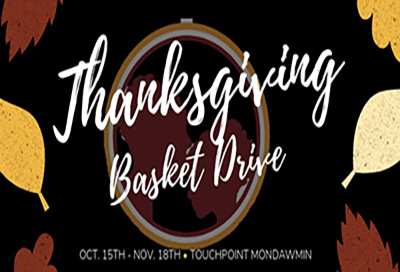 BOND is looking for volunteers on Sunday, Nov. 24 from to sort the items and pack basket from 11:00 a.m. – 2:00 p.m, and then distribute the baskets starting at 3:00 p.m.
All adult volunteers must register via Eventbrite, according to the event's page, and it is free to register.
Another opportunity to give back to the community is to volunteer on Thursday, Nov. 28, to assist the Bea Gaddy Family Center with its Thanksgiving event. This is an all-day event, starting at 4:30 a.m. and ending at 4:30 p.m., and is located in Baltimore, Md.
Donate to Stevenson Villager
Your donation will support the student journalists of Stevenson University. Your contribution will allow us to purchase equipment and cover our annual website hosting costs.