The men's and women's indoor track and field teams hope to continue the outdoor team's trend in 2019-2020 season.
Last year the men's team won their first Middle Atlantic Conference (MAC) championship in program history while the women placed fourth in the conference. The men return some elite performers from last year's championship team, including Patrick Watson who recently won the 2019 NCAA Division III Cross Country Championship.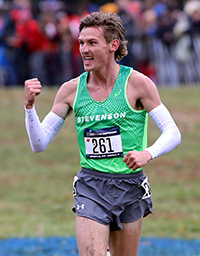 Other returners include juniors Dereck Davis and Ritchie Case, who both qualified for nationals last year. Davis clocked a 6.91 in the preliminaries of the 60m dash, which placed him in a tie for 11th at the indoor championship, while Case finished 17th overall in the heptathlon at the NCAA indoor championships with a total score of 4143 points, according to gomustangsports.com. Iddriss Iddriss is also a strong returner in the 800m event.
On the women's side, junior Rachel Panek is a key returner who narrowly missed qualifying for nationals in the pentathlon last year, according to Dave Berdan, head coach of the track and field team.
Panek herself has high hopes for the women's team: "I think the team will do well this year," she said. "We have a lot of young freshmen who are working hard during this preseason. The team's goal this year is to improve our strength and technique throughout the season and post-season. The team has been doing well and bonding together and supporting each other, and I want us to continue this passion leading into and through the end of the season."
Both teams are striving to win the MAC championship in 2020 and then continue that momentum into the post-season. A few first-place finishes at any meet bodes well for a strong finish for the team and can set the tone for the rest of the season.
"With the women, we just talk about trying to win, since we haven't won yet, and with the men, we are the favorites, but you can't go in there expecting to win," said Berdan. "We just want to keep them focused on putting in the work." He added that they are trying to become a good all-around team, and not just be known as the sprints team or the distance team.
Berdan said he does his best to motivate each individual athlete but can't do it alone. He expects his assistants to know their athletes and help them perform at the highest level possible. With so many different events, he can't be everywhere at one time and must trust his athletes and coaches to get themselves ready to perform for each event. Berdan is joined by assistant coach Zach Brown, who focuses on sprints, hurdles and relays, and graduate assistant Nick Shaw, who focuses on distance running.
The first meet will take place Saturday, Dec. 7 at Franklin & Marshall College, a meet that will give the team a chance to see where they stand before heading into winter break.