During the last two months, Stevenson athletics has placed a microphone on six members from six different athletic teams during a match, meet or game to give fans an inside look into the athletes' natural environment where the fans cannot hear them.
"Wired for Sound" has become a routine project that allows athletes to be heard during practices and games, with a tape posted on a YouTube Channel for parents and fans to watch. Sports including men's tennis, men's golf, men and women's soccer, women's volleyball, and women's ice hockey have all had the opportunity to have a microphone on one of their players during a practice.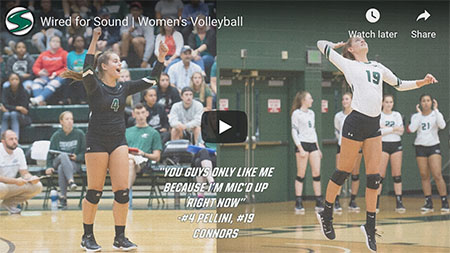 Emily Pellini, a women's volleyball player, was chosen as one of the players to be "mic'd up" during a practice.
Pellini said, "I think the purpose was to give Stevenson students and fans a glimpse into what one of our practices looks and sounds like. We work really hard at practices, and I think it's important to show people not only that side of us, but the fun side also."
Pellini was "mic'd up" on the team's annual Halloween practice when the entire squad was dressed up in costumes. The recording and video of the team was very candid and brought a sense of familiarity to the women's team.
The Stevenson Mustangs YouTube page has a total of 725 subscribers. Its most-viewed video in the "Wired for Sound" series was with the women's soccer team when they traveled to Europe, with 315 views since August 16, 2019.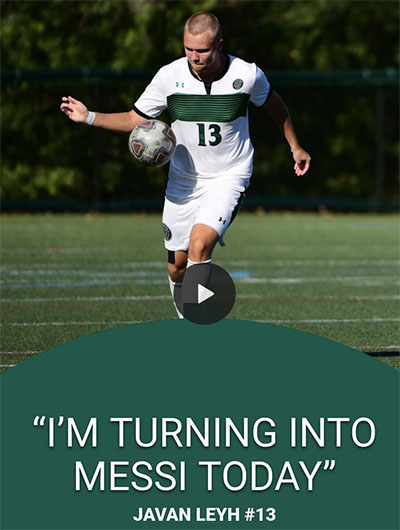 Stevenson alumni Jay Zorzi helps to put together the workings of the "Wired for Sound" YouTube series with the help of Stevenson's Office of Athletics. Fans were able to experience the trip from the players' point of view, and the video captured the essence of travel with the soccer team.
Having student-athletes tell their own stories through their own lens was a "really neat experience, and the feedback the final project got was all positive," said Pellini. Teams can be filmed and get involved in the process even if they are not hooked up to a microphone.
"Wired for Sound" has been a project conducted by a few schools around the nation to support their athletic teams. Stevenson University incorporated the "Wired for Sound" project and has ultimately given fans and parents a new way to see their favorite players beyond a place in the stands or on the sidelines.