The School of Sciences will host an event on Dec. 12 that will showcase the work of many of the students in most of the science majors.
The location of the event has changed several times over the years, but this time it will be held in the Solve Center in the south end of the Manning Academic Center. The Solve Center is located just the past the Green Zone desk and there will be a sign on the wall that indicates its location. The event will be held at 1 p.m. and will last for approximately an hour and a half.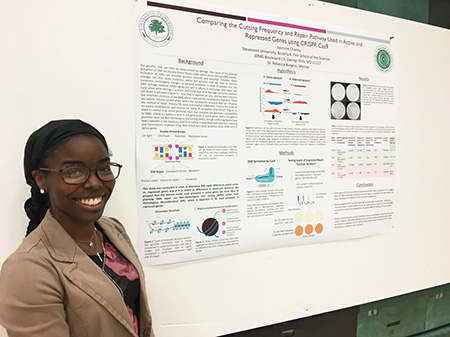 Typically only sophomore, junior and senior science students present at the showcase. The sophomore and juniors conduct research with science faculty on campus. All science faculty are conducting active research and scholarly programs, so the students work with them all semester and present their findings as well.
Some students participate in the event because it is required for their senior capstone class, but many just want to display the independent research they have conducted.
The Science Showcase will display the work of science students who have participated in on or off-campus scientific research, capstone projects and internships in different places. The students who have conducted research and investigations into challenges or debates in different kinds of scientific fields will present discussions of the issues, challenges and other topics they investigated.
Students who are presenting will create a poster, which will be hung on a bulletin board behind the student, who will be present to talk about the information exhibited to interested parties. Some students will talk about their research over the semester, while others may discuss their internship, future steps and interesting topics they investigated.
Though the event is of most interest to science students, anyone can attend, and participants can invite guests and family members. Olivia Apicella, a senior chemistry major, has been attending this event since her freshman year and has participated in the event at least twice.
According to Dr. Meredith C. Durmowicz, dean of the School of Sciences, which sponsors the event, the showcase has been conducted twice a year for nearly two decades.
When the event is held in the spring, laboratory students in the School of Nursing and Health Professions also participate. The School of Sciences includes applied math, biology, biochemistry, chemistry, and environmental science majors.
Biomedical engineering students are not participating because the program is in its inaugural year as a major and those enrolled are predominantly freshmen.
The event first started out as a way to help students emulate scientific presentations and practice sharing their research in a professional setting. It is also an opportunity to showcase the students' good work and have potential employers, advisory board members and community members see the professional work that students do.