Basketball hosts senior night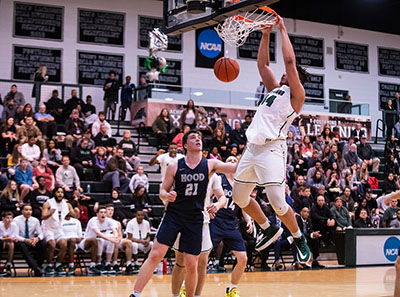 The Stevenson University men's basketball team hopes to close out the regular season strong with a final conference win. The Mustangs are 3-12 in the Middle Atlantic Conference with one game left against Lycoming College.
The team dropped one of its latest contests at Lebanon Valley 74-60 on Feb. 15. In an interview from Gomustangsports, head coach Gary Stewart said that the team is still able to maintain a positive attitude in the practice gym even through the rough conference season.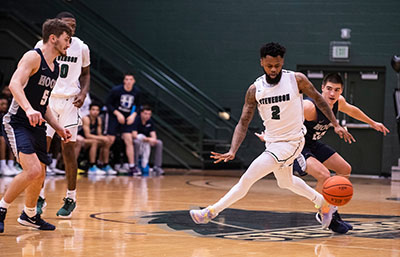 "There has not been any blaming of others or anything like that. I really feel like the guys have practiced hard every day and are not tentative come game time," said Stewart.
Senior Cam Harris believes that the closeness of the team on the court, as well as off, helps keep practices fun and competitive.
"We are very close as a group. It's fun going at each other and celebrating winning in practices with guys you love around you," Harris explained.
Harris, who is a point guard, currently sits third in NCAA Division III basketball for the highest three-point field-goal percentage at 49.1 percent.
"It's been really cool to see these kinds of results after spending countless hours working on my game. But as an international student coming from Scotland, it makes me even more proud because I feel like an ambassador for my country," said Harris.
The team still is hopeful about finishing the season strong. Stewart explained that challenges are mostly on his side of the court, not about the opponent.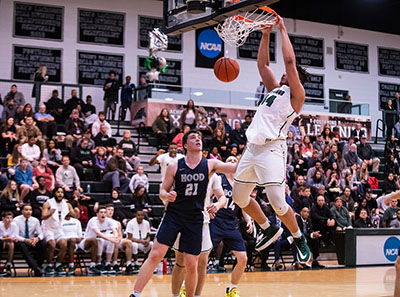 "It really isn't about the opponent; it's about us. We have to try and minimize the bad stretches in games, and not let the scoring extend to 7 or 8 straight points for the other side," he said.
Stewart continues to look forward to and be optimistic about the rest of the conference season.
"You've got to be forward-thinking in this business, and we are capable of playing a lot better," said Stewart.
Harris and the rest of his team still take each game as a new challenge and give it 100 percent.
"Even after losses, whether they are tight or not, we are always looking forward to the next challenge. We know what we have to do and are prepared to work for it," said Harris.
The Mustangs played at home for Senior Night on Feb. 18 against Hood College. Seniors Harris, Mark Terrell, Jaylin Johnson, and Kyle Wooldridge were honored prior to the game. Terrell led all scorers with 22 points and is now 14 points shy of 1,000 points, as noted on Gomustangsports.
Stevenson finishes the season at Lycoming College on Feb. 22 at 3 p.m.
Donate to Stevenson Villager
Your donation will support the student journalists of Stevenson University. Your contribution will allow us to purchase equipment and cover our annual website hosting costs.