This semester Stevenson's Career Connection Center created the "Mustang Career Mentors Program," which seeks to be a platform for students to network with successful alumni in the workforce.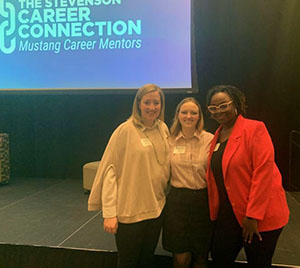 Sue Gordon, vice president of career services, said that the purpose of the Mustang Career Mentors Program is to connect Stevenson's "fantastic and super supportive alumni" with students. The program enables students to easily and efficiently access alumni who are already in the fields they wish to pursue.
On Feb. 12, the Mustang Career Mentor Program hosted an alumni-student mixer, an opportunity for students to network with mentors who have joined the program. Mentors could answer questions, offer advice and provide connections. Mentors came from employers including Johns Hopkins Carey School of Business, Tessco, BFG Financial Advisors, and Baltimore County Department of Social Services, to name just a few.
"Depending on what you are studying, 60-80 percent of people find jobs because of networking or a personal connection," said Gordon. She added that students don't know what can evolve from a relationship.
Matt Seiler, assistant director of employer relations, said that his office staff found a program they really like, called "peoplegrove.com," that allows students to use their Stevenson single sign-on to create a profile. Students then can simply enter in their majors and career interests to see all the alumni working in those fields, added Seiler.
The platform allows students to set up meetings with alumni over the phone, through video calls and email, or in person. Students can access this platform by going to the website and clicking "Access the Mustang Career Mentor Platform."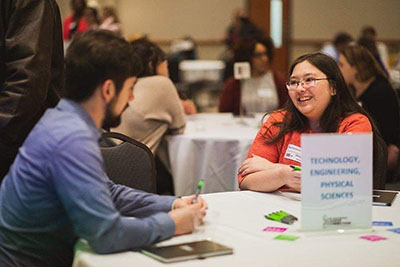 Seiler said, "Along with careers, another thing that Stevenson has always had is a strong alumni relationship, so we are finding another way to bring that together." He added that the office is working closely with alumni to develop the program, and being an alumni himself, Seiler was excited when he originally heard about the office's plans.
When the program originally launched, over 100 mentors joined within the first week because they were interested in connecting with students, said Seiler. On the student side, he said, there were requests after requests for potential mentors for the program."I signed up [as a mentor] myself," added Seiler.
He said that after conversations with colleagues and friends who work at other institutions of higher education, there was this clear indication that Stevenson's alumni are different.
"I don't know what it is about this place that [makes] everyone want to help so much," he said. Gordon noted how incredibly eager Stevenson's alumni base is to help out.
Those who are interested in getting connected to alumni or want more information about what the Career Connection Center provides can visit this webpage.