Students study culture, medicine in Ecuador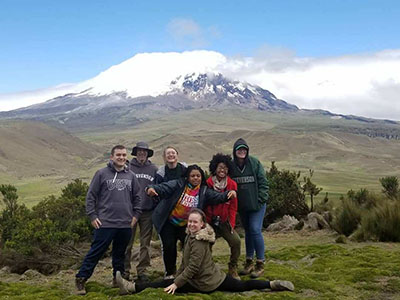 The 2020 Winterim class of Herbal Medicines and Remedies made the trip to Ecuador in January. Students learned about the medicinal and cultural aspects of the country through collecting data, conducting experiments, and visiting historical sites, according to Stevenson's course catalog.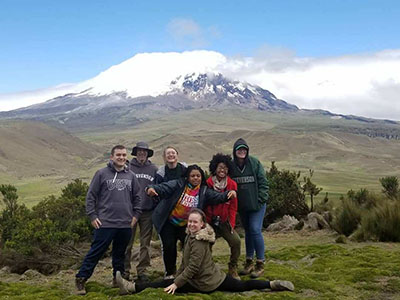 While the students were in Ecuador, they gathered information "about the indigenous medicines of the region through various excursions to Botanical Gardens, Ecological Reserves, and indigenous clinics and hospitals," according to the Stevenson blog.
Students were also able to experience the culture and understand the lifestyle of people in Quito, the capital of Ecuador. The class then ventured into the Galapagos Islands, located about 600 miles west of the mainland, where the cultural differences were extreme.
One Stevenson student, Liz Cudal, said, "In Quito, the main difference was language. When we went to the Islands, the way of life was different. It was a simpler lifestyle and island life is just amazing."
Fellow Stevenson student Jeremy Lang recognized another difference in culture. "Ecuadorians, especially on the islands, live in a way to reduce waste and live with minimal environmental impact," said Lang.
Lang added that the main purpose of the trip was to understand the culture, ecology, and wildlife in Ecuador. "This trip taught me about a vastly different way of life from my own in the United States. I learned how to communicate with people who do not speak English," said Lang.
"I learned a lot about the Galapagos Islands as a whole, how the life there works symbiotically, how the people who live there interact positively with their surroundings, and how important it is to conserve the environment. I can't explain how much I learned in our short two weeks there. It was an extremely beautiful experience," said Cudal.
Students interested in studying abroad can visit the Office of International and Off-Campus Study located in Garrison Hall South. The office will be able to help students plan their full educational experience outside of the United States.
Donate to Stevenson Villager
Your donation will support the student journalists of Stevenson University. Your contribution will allow us to purchase equipment and cover our annual website hosting costs.