Stevenson University intramural sports are currently sponsoring a three-sport league activity that takes place on Sunday, Monday, Tuesday, and Thursday in the Owings Mills gymnasium.
The sports currently being played are 3 v. 3 and 5 v. 5 basketball and dodgeball.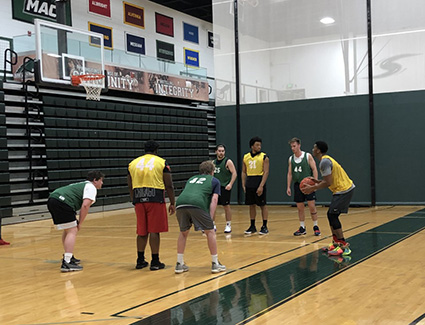 According to its mission statement, "Intramural Sports is committed to improving the quality of life on campus, fostering personal growth for all who participate. The program is open to all students, faculty, and staff. Stevenson University is a member of the National Intramural-Recreational Sports Association in which intramurals is a major entity. Intramurals provides both competitive and non-competitive sports, all of which are played on the Owings Mills Campus."
Although it is too late to sign up for these current activities, students are still encouraged to watch the games as they take place in the Owings Mills gymnasium at both 9 and 10 p.m.
According to Brittany Bizila, the coordinator of competitive sports, playoffs for these sports start the second week of March, and the winning teams receive a banner and a t-shirt. Bizila also said that the outdoor sports will be available to all students who want to play soccer, softball, beach volleyball, and kickball after spring break.
The intramural staff encourages teams to enter the chase to win the Mustang Cup for each division. Teams will collect points for registering, participating, winning, sportsmanship, and more. The more sports a team plays in, the more points it will accrue. The teams that win in each division will have their names engraved into the Mustang Cup trophy.
Students can sign up for these activities on the phone app SU Campus Rec or on IMLeagues.com/Stevenson as a free agent or as a team. All participation is free of any charge. Teams who wish to sign up in person can find intramural and campus recreation offices on the first floor of Garrison Hall North past the eGaming room.
Bizila believes that flag football and basketball are the most popular sports, consisting mainly of sophomores, juniors and seniors. She added that the majority of the students are seniors who have used up their NCAA eligibility, and that freshmen usually don't participate because they don't know anything about it.
According to senior Tyler Burton, intramural sports gave him something to do with his friends and still be athletic as his football eligibility concluded. He added that he wished he would have taken part in intramural sports a lot earlier.
Unlike varsity and club sports, intramurals give players an opportunity to be competitive and still have fun without the pressure of required practices.
Intramurals can bring athletes and non-athletes together among a new group of friends and offers an opportunity to play sports that you love.