Women's lacrosse faces tough schedule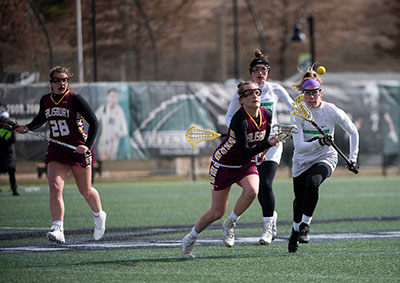 The Stevenson women's lacrosse team has their sights set on the Middle Atlantic Conference (MAC) title after losing 10-5 in last year's final against Lebanon Valley College. The team maintains high expectations to win the MAC, which would earn the team an automatic bid to the NCAA playoffs.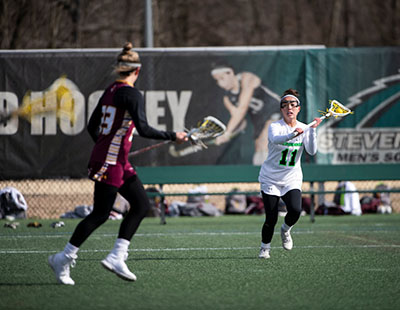 The Mustangs kicked off the season at Mustang Stadium against the Seagulls of Salisbury University, who are ranked No. 3 in the Mid-Atlantic region NCAA DIII women's lacrosse rankings. Stevenson sophomore Caroline Murphy scored twice for the Mustangs, including the first goal of the game, which was followed by a 14-goal rally by the Seagulls. Murphy scored her second goal at the 4:43 mark of the second half off a free-position attempt to close out the 14-2 loss.
The following weekend, the Mustangs traveled north to Gettysburg, Penn., where they faced off against the Bullets from Gettysburg College, who are ranked No. 4 in the Mid-Atlantic region NCAA DIII women's lacrosse rankings. Five different Mustangs scored in the contest, with Caroline Murphy and senior Carly Bowes each recording two goals. The Mustangs lost 16-7 to the Bullets, moving the Mustangs to an 0-2 start for the season.
The team finished last season with a record of 15-4, the first 15-win season since 2013, when the team finished 16-2. Coach Kathy Railey said, "The last time we won the conference was in 2014 and since then we have made it to the finals 4 times and come up short." She added, "We have a strong team this year and our goal is to win the conference championship to get a bid to the NCAA tournament."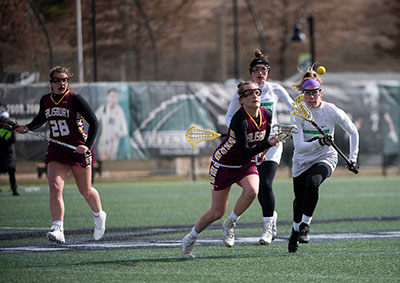 Sophomore Tea Ferrera said, "Last season we had something to prove. Our team was young and inexperienced, but we wanted to win." She added, "The team trained hard and put in the work this off season for hopes that we can bring the MAC title home to Stevenson once again."
The team has six remaining home games this season along with a trip to Colorado March 18-20, where the team will face Denison University and Colorado College. This will be the first trip for the team to Colorado with hopes that playing out of conference and region will test their ability against new opponents and different playing styles.
The team's next game is at Mustang Stadium on Feb. 29 at 1 p.m. as they face the Yellow Jackets of Randolph-Macon College. The Mustangs hope to bounce back from their 0-2 start and get the squad back on track to make a push for the MAC title.
Donate to Stevenson Villager
Your donation will support the student journalists of Stevenson University. Your contribution will allow us to purchase equipment and cover our annual website hosting costs.