March is not like any other month. March is Women's History Month, and the Stevenson University community is hosting an array of events to commemorate moments in time that celebrate women.
Women's History Month is "an opportunity to reflect and truly recognize the advances that we [women] have had," said Cristina Garcia, the director of diversity and inclusion at Stevenson University. Jenna Womack, director of student activities, adds that in addition to celebrating the women today, the significance of the month is "to honor the women of our past – especially those that fought for today's women to have better opportunities."
An article on History.com notes that 2020 marks 100 years since women were granted the right to vote following the ratification of the 19th Amendment in 1920. In acknowledging the importance of the month, different departments, clubs and organizations at Stevenson are hosting activities emphasizing women empowerment.
From March 5-8, the Office of Student Activities, in collaboration with various clubs on campus, is hosting a Weekend of Women event series for the second consecutive year. Events will include the following:
An open mic night hosted by Women of Resilience, Tenacity and Humility (W.O.R.T.H.) on March 5 at 6:30 p.m. in the Garrison coffee house
Mustang Activities and Programming (MAP) self-care spa on March 6 at 8 p.m. in the Claire Moore room
A trip to the Women of the World festival on March 7 from 9:30 a.m. at the Columbus Center in Baltimore
Phi Sigma Sigma Question, Persuade and Refer (QPR) training on March 8 at 10 a.m. in the Claire Moore room,
Boss Babes brunch on March 8 at 12:30 p.m. in the Claire Moore room.
These events are largely aimed at building community, inspiring discussion, helping women develop skills, and encouraging women to take care of themselves, according to Womack. "I'd love to see students meeting new students and making new connections," Womack added.
The Center for Diversity and Inclusion (CDI) is also planning a series of events on topics of conversation about women's history.
At these events, part of the dialogue includes the idea that although Women's History Month is a celebration of the women's suffrage movement, women of minority groups were – and sometimes still are – limited in their right to vote. "We're celebrating this huge milestone, but even that isn't inclusive in everybody," noted Garcia.
CDI will host two "Let's Talk" events this month. The event on March 4 at 7 p.m., titled "Grey Matter," focuses on connecting women's history with the concept of self-imaging, according to a flyer from the CDI office. There will also be a discussion on March 25 at 7 p.m., which Garcia said will discuss voting inequalities. On March 10 at 12:30 p.m., CDI will host a "Tough Topic Tuesday" to focus on conversation about the 'glass ceiling' and the lack of equal pay between men and women. These events will take place in Caves room 249.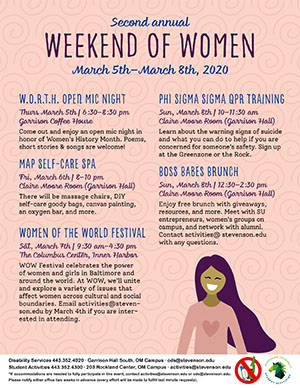 This month's CDI coffeehouse event in the Garrison coffee house will also commemorate Women's History Month. It is slated for March 26 at 7 p.m. "Faculty and staff are performing, [and] students have reached out and want to perform," Garcia said, adding, "People are really excited."
Anyone is welcome to attend any of these events. "You don't have to be [a woman] to participate and you don't have to be a woman to celebrate and honor," said Garcia.
Questions about the Women of the World festival and Boss Babes brunch should be directed to [email protected]. Inquiries about any event sponsored by CDI can be emailed to [email protected]. Queries about a club-sponsored event should sent to that club's direct email.
---
Women's History Month Events Calendar
Let's Talk: Grey Matter – March 4, 7-8 p.m. in Caves 249
W.O.R.T.H. Open Mic Night – March 5, 6:30-8:30 p.m. in Garrison coffee house
Friday Night Flicks – March 6, 8-10 p.m. in Lynn Duncan room
Self-Care Spa – March 6, 8-10 p.m. in Claire Moore room
Women of the World Festival – March 7, 8:30 a.m.-5 p.m. at the Columbus Center, 701 E Pratt St, Baltimore, MD 21202
QPR Training – March 8, 10 a.m. in Claire Moore room
Boss Babes Brunch – March 8, 12:30-2:30 p.m. in Claire Moore room
An Outsider's Guide to Filmmaking… and Life in General – March 9, 5 p.m. in School of Design Soundstage
Tough Topic Tuesday: The Glass Ceiling and Equal Pay – March 10, 12:30-1:30 p.m. in Caves 249
Friday Night Flicks… On Wednesday: A Ballerina's Tale – March 11, 5-8 p.m. in Lynn Duncan room
Self-Defense Class Part II – March 24, 4-6 p.m. in Claire Moore room
Let's Talk: Left, Right, Center – March 25, 7-8 p.m. in Caves 249
Coffeehouse: Honoring Women's History Month – March 26, 7-9 p.m. in Garrison coffee house