Men's lacrosse focuses on bouncing back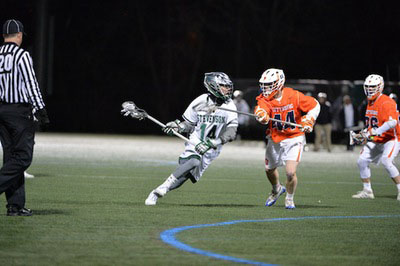 Stevenson's men's lacrosse team has had a roller coaster of a season thus far and they have competed in only three contests.
All three opponents were ranked within the top 15 in Division III when the Mustangs played them. Stevenson fell in a one-goal loss, 13-12, to No. 9 Ursinus College on Feb. 15. They continued their road trip, traveling to York College on Feb. 22, where they knocked off the No. 6-ranked team in the country, 12-11.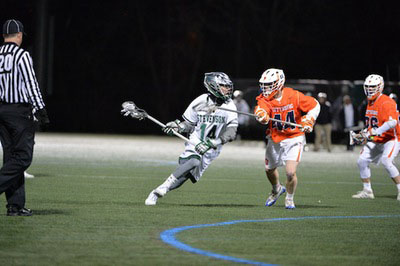 The Mustangs returned to Owings Mills for their home opener on Feb. 29, where they faced No. 12-ranked Gettysburg College, falling 10-5 in the contest.
Coming into the season head coach Paul Cantabene said their goal was to compete for a national championship. He believed the team would be in good shape based on the fact that they had a lot of offensive players returning.
Senior midfielder Ethan Christensen echoed Cantabene, saying he felt their chemistry would be very strong with two of their three starting attackmen returning. He added that the there were also a lot of midfielders with experience that would help contribute in a major way.
In the Mustangs first game of the season, Cantabene said they competed well the entire game, adding that the team could have done a better job clearing the ball in transition. The Mustangs were 17-for-24 in clears, while Ursinus went 15-for-23. Stevenson was 17-for-28 in face-offs won, which is about 61 percent.
The Mustangs followed that up with a big road-win over No. 6 York College. Cantabene said they were much better on man-up situations in comparison to their first game, going 5-for-6 while holding York to 0-for-3, according to gomustangsports.com. He added that they were more disciplined and better in specialty areas including face-offs and goaltending.
Christensen added that the defense have been playing well and coming up with big stops and giving the offense opportunities to put the ball in the back of the net.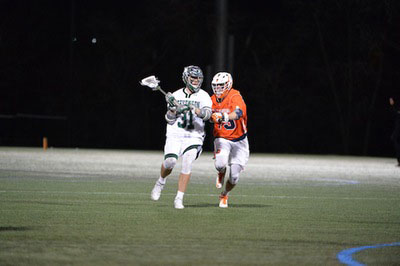 Cantabene said that this team is much more invested, compared to teams in years past. He added that the players are working hard in the weight room, and said that juniors Jacob Tatum and Jacob Magaw have played well in the season so far.
Through three games, Tatum leads the team with 11 points, with Christensen following with 10. Magaw leads all defensemen with 11 ground balls along with five caused turnovers.
Against No. 12-ranked Gettysburg on Feb. 29, the Mustangs held the Bullets scoreless in the first quarter, but Gettysburg bested the hosts in the remainder of the game. One key difference was Gettysburg's control of face-offs, going 13-for-19, which is 68 percent. The teams were nearly even on ground balls, but Gettysburg had the edge in clears. The Mustangs had 42 shots to Gettysburg's 24, and while senior goalie Marc Poust had seven saves for the Mustangs, Gettysburg's Scott Macmillan had 18.
Post-game, Cantabene said that the team needs to continue to work on extra-man opportunities, and that the team as a whole needed a little more fire and experience.
The Mustangs will travel to Christopher Newport currently ranked No. 20, on March 7. They will then return home for the Mustang Classic in which they will face-off against Franklin & Marshall on March 13 and Denison University on March 14.
Donate to Stevenson Villager
Your donation will support the student journalists of Stevenson University. Your contribution will allow us to purchase equipment and cover our annual website hosting costs.