As the spring semester moves along, the indoor track and field season has come to an end, but the student-athletes still have another chance at Middle Atlantic Conference (MAC) titles as outdoor track and field is in full effect.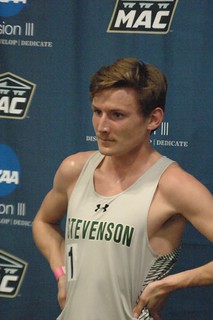 The indoor track and field team ended their 2019-2020 season competing in the MAC championships Feb 28-29. Some of the events Stevenson won included the men's 200 meters, the men's 60 meters, and the women's weight throw.
Coach David Berdan is coming off his second season as the head coach of the team. Prior to this, he was the head coach of the cross country teams and assisted with the indoor and outdoor track teams.
During these two seasons, he has won two consecutive conference titles under the leadership of seniors Danika Ani and Patrick Watson. For these two, their seasons did not end with the MAC championships at Alvernia University. They both qualified for the NCAA Division III Indoor Track and Field Championships in Winston-Salem, North Carolina, along with junior Derek Davis.
Freshman jumper Nicole Osei said that the team did not end the season with all the outcomes they may have wanted, but she is proud of her teammates and can't wait the outdoor season to get under way to get another chance at a MAC championship.
As a team, the women came in fifth place overall out of 11 competing schools on the first day of the MAC championships, with a total of 22 points. On the second day of the meet, the women's team dropped to sixth place out of 12 teams with a total of 55.5 points to complete the weekend.
The men's team came into the MAC Championships defending their conference title from 2019, but their first-place wins in the 5000 meters and 60 meters were not enough to give the Mustangs the overall conference championship for 2020. After day one, the Mustangs were second out of 12 with 33 points. On the final day of the meet, the men finished with 120 points to place third overall, out of 14 competing teams in the MAC championships.
With indoor track and field coming to an end, the athletes who qualified will represent their team in the NCAA Division III track and field championships March 13-14. Berdan will continue to work with his athletes on their quest for another MAC championship for the women's and men's teams during the outdoor track and field season.
The outdoor season officially begins March 28 – 29 at Widener University for the Danny Curran Invitational.