Despite going 2-2 on the weekend of Feb. 28-29, the Stevenson University women's beach volleyball team fought hard and had many positive takeaways from the four matches in Indiana.
The Mustangs (2-2) went down to the wire in three of four matches when they traveled to the Empower Sports Club in Fort Wayne, In.
In their matches against Tusculum University and Park University, the Mustangs were able to edge out their opponents 3-2. But in a close battle against Carson-Newman University on the second day of competition, the Mustangs were narrowly defeated 3-2.
"The competition was great, and it made us a better team by the end of the tournament. It was a fantastic start to the season," said senior Katie Leftridge.
The Stevenson team was playing at an indoor facility, something the players do not see often. Piper Connors, a sophomore on the 2's team, explained that it was a little strange on the first day of competition to play inside.
"The second day we were hitting much better shots and serve/receiving better. We certainly had to get used to the facility," said Connors.
The team was pleased with the fight displayed across all six pairs. Head coach Dave Trumbo saw many positive aspects of his team, even in the matches they lost.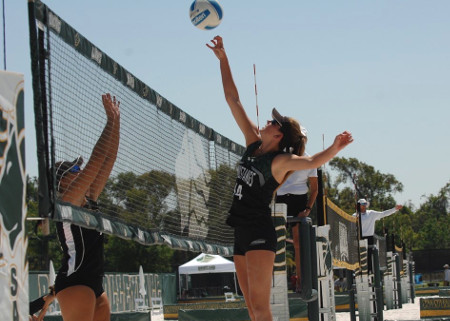 "Each of our 12 players fought extremely hard in all four matches. Coming back into practice, it's just going to be about how we can score that third dual-winning point to claim the outright victory," said Trumbo.
However, due to the developing pandemic of COVID-19, all spring athletics, which includes women's collegiate beach volleyball, were cancelled for the remainder of the spring season, as announced by the NCAA.
"It's very sad for many reasons," said Leftridge. "This was the first year that Division III athletics would have sponsored a national championship for women's beach volleyball, and with roughly only five other Division III beach teams, our chances were high. And that would have been an unbelievable memory to leave Stevenson with."
Aside from missing the opportunity of playing for a national title, the current senior class would have been Stevenson's first group of beach athletes to go through four years of the program.
"It was our first beach recruiting class. Trang [Christensen] was our first beach recruit ever. To not have the opportunity to play a little longer and to play for a national championship is devastating," said Trumbo.