2020 softball season ends early
The 2020 softball season was barely begun as the team prepared to compete in the Middle Atlantic Conference (MAC) for a championship.
On March 4, Coach Julia Culotta and her team began their 2020 softball season against nationally ranked Randolph-Macon College where they split 1-1 for that day. This was a solid beginning to a shockingly shortened season for the Mustangs.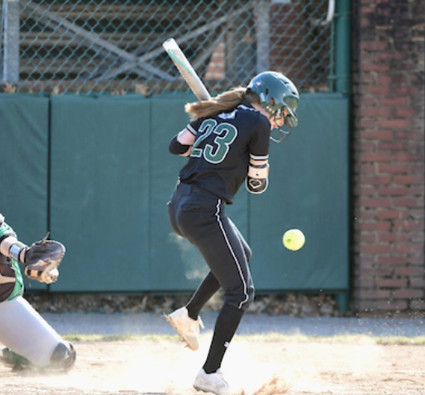 The season was up in the air with uncertainty after the team's fourth game, once the COVID-19 (coronavirus) began to spread throughout the nation. On March 12, the National Collegiate Athletic Association (NCAA) made an official statement that "all remaining winter and spring sports will be canceled for the rest of the semester." For spring collegiate sports teams across the United States, their seasons would end just as they began due to the global pandemic of COVID-19.
After finishing their 2019 season on a four-game winning streak and winning five out of their six games, the Mustangs were going into this season with a new attitude.
Before the season began, Culotta said via the Julia Culotta Show on gomustangsports.com, "As far as our goals for 2020 season, they are the same. We want to make playoffs; we want to win the conference."
Despite the team's new mindset, the MAC coaches' preseason poll picked Stevenson to finish seventh out of nine for the 2020 season. The team returned two all-conference players from last season: juniors Kayla Briles, who was named to the second team; and Alexandra DiGrande, who received an honorable mention.
For Culotta and the team, their 2020 season ended with a record of 2-2 over a total of four games against only two teams. Both opponents played were non-conference for the Mustangs; the conference regular season had not begun before the NCAA cancellation.
On the evening of March 13, the NCAA Division III Administrative Committee stated that it "will be granting an additional season/semester of eligibility for student-athletes participating in the spring sports."
This declaration gives Stevenson softball seniors Gina D'Andrea, Haley Lennon, Erin Muir and Morghan Fulton the option to gain their senior season back and actually play for their team again next spring. Although this is not how any team wanted to end their season, Culotta and the team will have the opportunity to pursue a MAC championship next spring.
Donate to Stevenson Villager
Your donation will support the student journalists of Stevenson University. Your contribution will allow us to purchase equipment and cover our annual website hosting costs.