Senior athletes reflect on time as Mustangs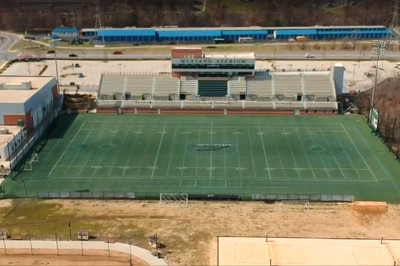 For this third installment of reflections from senior athletes, the voices from the men's football team, men's ice hockey, women's lacrosse, women's softball, and women's soccer team are represented for their memories and achievements.
Hanif Jones, a senior defensive back on the men's football team, said that his favorite memory as a Mustang happened in his freshman season in 2016. Jones said that in 2016, the football team was undefeated for eight games and won the conference championship, which bought them a ticket to the national tournament.
"The energy for that season was just different. This was a very fun and exciting time for me as a freshman to start my career off with a conference championship and a trip to the playoffs," he said, adding that his biggest achievement as a Stevenson athlete was being elected as team captain in his senior season.
On the men's ice hockey team, senior defenseman Alfred Panelin-Borg said that his favorite memory as a Mustang was winning the Middle Atlantic Conference (MAC) championship in 2018.
Panelin-Borg said that his biggest achievement was being a part of shaping the men's ice hockey program since its inaugural season in 2016. He added that from this being a brand-new program four years ago, to being ranked top-10 nationally at one point during the 2019-2020 season was incredible to be a part of since his freshman year.
Haley Lennon, a senior outfielder on the women's softball team, said that a few of her favorite memories as a Stevenson athlete was driving in the winning run to a walk-off win against Wesley College and beating nationally ranked Randolph-Macon College during the 2020 season.
 Lennon said that her greatest achievement was "learning to take every opportunity to improve. I learned that no matter how hard I work, things won't always go my way but I can always control how I react." 
Carly Bowes, the senior captain and midfielder on the women's lacrosse team, said her favorite memory was beating Messiah College 14-3 during the 2019 season for the first time in her collegiate career.
"My biggest achievement as an athlete at Stevenson," said Bowes, "was remaining a starter in the midfield all four years while working to earn my nursing degree. I am proud of my hard work and dedication to both, which in turn allowed me to achieve both academic and athletic accolades throughout my four years at Stevenson."
Brianna Christie, a senior midfielder on the women's soccer team, said her favorite memory was scoring the winning goal as a freshman against #12-ranked Arcadia University during the 2016 season. Christie said her biggest achievement was being the "only team member to be named First Team All-Conference in 2020."
The Villager is grateful to all the senior athletes who participated in this series, as well as all other senior athletes at Stevenson for their dedication and hard work during their time as Stevenson athletes.
All photos from gomustangsports.com
Donate to Stevenson Villager
Your donation will support the student journalists of Stevenson University. Your contribution will allow us to purchase equipment and cover our annual website hosting costs.