Stevenson University's second annual Day of Giving is set to occur on April 23 to raise money for a scholarship fund that will help assist students with unexpected financial challenges due to the COVID-19 crisis and to make sure they can continue their education.
According to Heather Lang, associate director of annual giving and alumni relations, after much success with the first Day of Giving, during which the university was able to raise over $46,000, they hope to make this year's event just as successful in order to make an impact on the Stevenson community.

The Day of Giving began as a way for "members of the [Stevenson] community to come together for 24 hours in support of all things Stevenson," according to Allison Cuneo, director of annual giving and alumni relations. Starting at noon on April 23 and continuing until noon on April 24, alumni, students, parents, faculty, staff, and friends of the university can show their Mustang Pride by making Stevenson a philanthropic priority, added Cuneo.
The theme of the event this year is One Day. One Stevenson. "Because of how fragile and uncertain the world is right now, our first and foremost goal is to remind the Stevenson community that we are all in this together. Together we are One Stevenson," said Lang.
One way people can participate in this event is by gifting or donating to the One Day One Stevenson homepage. To donate, people can sign up for a GiveCampus account.
To further show support for the event, the Day of Giving page on Stevenson's website encourages people to do the following:
Advocate for Stevenson by challenging others or creating a personal plea.
Create an account and share the Day of Giving page with your friends and family.
Post on Facebook or Twitter to encourage your followers to make a donation to the Stevenson Scholarship Fund and share the GiveCampus page link.
Use the hashtag #OneStevenson to spread the One Stevenson Day of Giving on your social media and explain why you love Stevenson.
"Imagine how many people can see just how special [Stevenson] is if everyone shared on social media how much they love [Stevenson] on this one day," said Lang.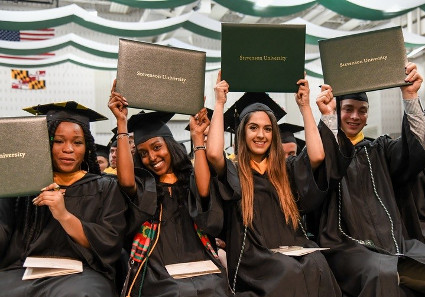 Donors are encouraged to make gifts toward the Stevenson Scholarship Fund. According to Cuneo, due to the current situation, students may be struggling financially with possible loss of income or housing, travel expenses, and other repercussions of the pandemic. The Stevenson Scholarship Fund will be able to assist students, who may be struggling to cover the cost of tuition, by offering additional financial assistance.
"Having our students finish school, become proud alums, and go out and do amazing things in the world is our ultimate goal," said Lang.
As an extension of the Day of Giving, the Office of University Advancement launched the One Stevenson campaign on April 6. This campaign began as a way to encourage unity among the Stevenson community. People can post pictures, videos, or stories on social media using the hashtag #OneStevenson to share how they may be "helping others, staying healthy, finding the positives, and persevering through this tumultuous time," said Cuneo.
Additionally, Lang wants people to know that the Office of University Advancement is always willing to help out. People can reach out to [email protected] if they have any questions, need help setting up a GiveCampus account or share stories in support of the One Stevenson campaign.