Geese-chasing dogs help keep grounds clean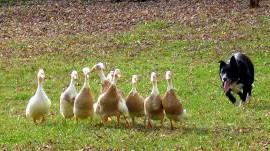 While many Stevenson University (SU) students, staff and faculty members are sequestered indoors amid the coronavirus pandemic, a few honorary members of the SU community – goose-chasing dogs – will be hard at work outdoors for the remainder of the spring semester.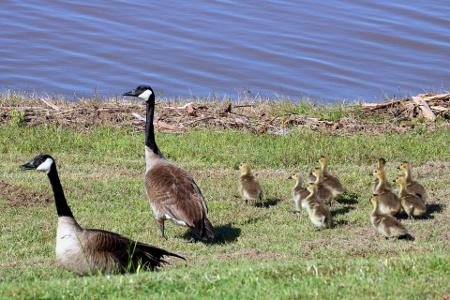 Canada geese have become a familiar sight on the SU Owings Mills sites, particularly during the latter end of wintertime and continuing throughout the spring. However, as time goes on, more and more geese are coming to nest at SU which has led to some issues, particularly with maintaining campus grounds, noted John Buettner, vice president of marketing and digital communications.
As a result, goose-chasing dogs are being utilized as a "humane tactic to force the geese away," Buettner said. According to an announcement on the SU Now Portal page, "The dogs are trained not to harm the geese," but rather to motivate the geese to find a new home away from SU's campuses.
Currently, there are about seven pairs of nesting geese residing among SU's main and north campuses, said Buettner. According to the United States Department of Agriculture, in May, most goslings will hatch, as the nesting season for resident geese generally occurs between late February and the middle of May.
Canada geese prefer to nest close to water where there is a good sightline of the area, according to the Humane Society of the United States. Several areas of water are present around both campuses, including a pond right across from the entrance to north campus, Buettner said.
To encourage the geese to find a new home off-campus, the goose-chasing dogs – which are trained border collies accompanied by handlers – "mimic predatory behavior," said Buettner, who emphasized that the geese are not physically harmed in the process. According to Geese Relief, a Canada goose control and maintenance company, "Goose dogs instill a natural fear in the geese that results in them immediately leaving an area."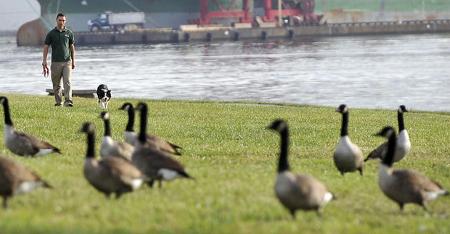 On campus, the goose-chasing dog service, which is being managed by Alpha Landscape Contractors, will be a continual process that takes place over at least two months, said Buettner, adding that the goose-chasing dogs may have to revisit campus at least two to three more times in upcoming years to ensure that the geese do not return. Buettner explained that the best time to begin the process for the goose-chasing dog service is in early February prior to the geese arriving.
While there are currently no updates on the effectiveness of the goose-chasing dog service at SU this semester, updates are expected in May, said Buettner.
According to the SU Now Portal announcement, anyone with either questions or concerns about the goose-chasing dogs should contact Leland Beitel, assistant vice president of facilities and campus services, through campus email.
Donate to Stevenson Villager
Your donation will support the student journalists of Stevenson University. Your contribution will allow us to purchase equipment and cover our annual website hosting costs.