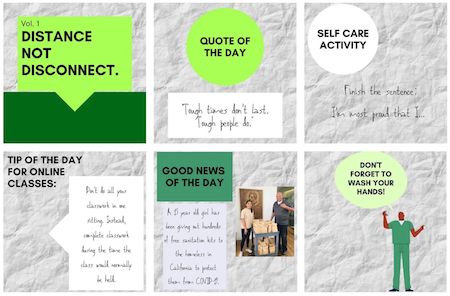 The Office of Student Activities at Stevenson University is still conducting activities despite the university being closed by COVID-19. A variety of social media accounts make this possible.
Through social media, members of Mustang Activities and Programming (MAP) have decided to reach out and engage fellow students during this pandemic. The members of MAP are active on their Instagram account @mapatsu and the Office of Student Activities is active on their account, @su_studentactivities.
This online engagement includes activities such as trivia nights, virtual bingo, and even Tik Tok dance challenges that provide winners gift cards to Grubhub, Amazon and other online services. The Student Activities account also provides a quote of the day along with self-care activities, tips, and foods that address students' physical and mental health.
Keeping these accounts active reminds students to keep a positive attitude and lets them know that they are not going through this crisis alone, according to Krystal Alexis, president of MAP and a senior at Stevenson University. Alexis also mentions that they are currently promoting their applications for MAP's executive board which are open until April 17.
Do-it-yourself activities are also posted on the various social media platforms. If students want to make their own mason jar flower pot or a glitter jar to keep them busy during this time of social distancing, instructions and help are available.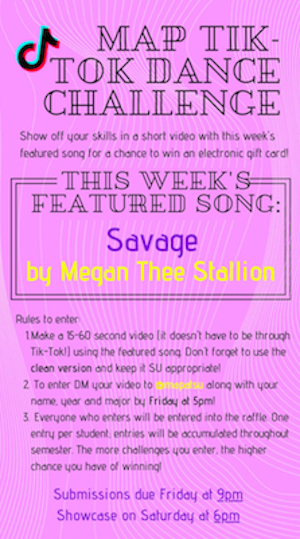 Activities are currently being hosted almost every day of the week. Monday is the weekly MAP Tik Tok Challenge. The Tik Tok challenge is revealed on Monday and video submissions are due on Friday by 9 p.m. to the @mapatsu Instagram through direct message.
All video submissions will get placed into a raffle; the more videos submitted, the higher a chance a student will have to win the raffle. Submissions will be showcased on Saturdays at 6 p.m. Jonny McKay, a sophomore at Stevenson University, said that the Tik Tok dance challenge gives him something to look forward to each week.
The other days of the week include Ted Talk Tuesdays by the Center for Diversity and Inclusion, Virtual Career Chats on Wednesdays and Online Career Chats on Thursdays both by the Career Connection Center. Weekend activities hosted by MAP revolve around self-care. This Saturday at 11 a.m., meditation and yoga can be attended on the @mapatsu Instagram page.
Although people are adjusting to social distancing and are not allowed back on campus, the Office of Student Activities is trying to keep fellow classmates happy and occupied though these activities on social media.