The Stevenson University Student Government Association (SGA) held student body elections that began on Feb. 25 and ended on March 10. The elected officers will serve on the school's SGA executive board during the 2020-2021 school year.
According to stevensonsga.com, the group's mission is "to serve as an active representation of the student voice to the faculty, staff and administration." SGA is led by students in the executive board's office positions: president, vice president, speaker of the senate, chief justice, director of finance, director of philanthropy, director of public relations and alumni outreach, director of diversity and inclusion and class representatives.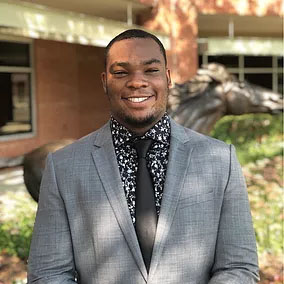 Current SGA president Dontae Thomas said, "We strive to improve the quality of students' experiences through the exchange and development of ideas from Stevenson's diverse community." As president, Thomas oversees all branches of student government. He is responsible for organizing and leading all SGA meetings, retreats, and events.
As a third-year business administration major, Thomas served as SGA president for the 2019-2020 school year and was re-elected in February for the 2020-2021 school year. Prior to being the president, Thomas served as a class representative during his freshman and sophomore years.
Thomas relies on the help of his vice president, Emani Carter, to keep all SGA events and activities running smoothly. Carter, a third-year visual communication design major, will serve as the SGA vice president for the 2020-2021 school year. Similar to Thomas, Carter held the vice president position during the 2019-2020 school year and served as a class council member during her freshman and sophomore years.
Along with Thomas, Carter represents the student body at a variety of meetings and events. She is in charge of all student clubs, organizations and committees and establishes SGA budgets with the director of finance, the speaker of the senate and the director of student activities.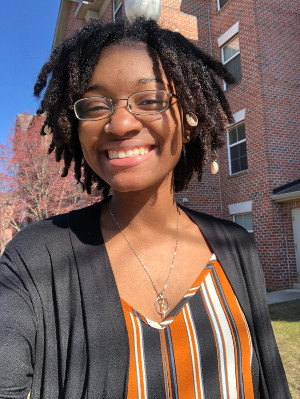 "This past semester, we allowed for clubs and organizations to request way more money than before," said Thomas. "We stepped up our efforts to offer additional funding for more projects. The spring semester was supposed to be one of the biggest and busiest semesters for the SGA and our clubs and organizations." In addition, the SGA launched the men's and women's basketball student section, known as the "Stang Gang" and created an off-campus shuttle schedule that would give students without cars an opportunity to go places off campus, such as Wegmans and Walmart.
Unfortunately, the COVID-19 pandemic put an end to SGA's events and activities for the 2019-2020 school year. "We are currently planning a virtual town hall and other small virtual events, all while transitioning from the 2019-2020 cabinet to the 2020-2021 cabinet," said Carter. "We have adjusted with a little bit of creativity and willpower."
The new 2020-2021 cabinet welcomes Brandi Hall as senior class representative, Hariel King as junior class representative, Mark Reichart as sophomore class representative, Julia Troost as speaker of the senate, Jaden Thornton as chief justice, Juan Mercedes as director of diversity and inclusion, Suleiman Kassamia as director of philanthropy, Justin Biggs as director of finance, and Adam Steiner as director of public relations and alumni outreach.
According to Thomas and Carter, SGA is keeping busy during these unprecedented times with scheduled online meetings and plans for next school year. "We will accomplish whatever the students need us to in order to help them succeed and have a great experience during their time at Stevenson," said Carter.