Soccer teams adapt to new practices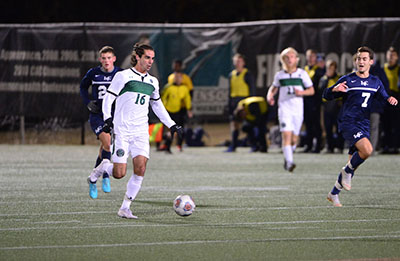 Starting this fall, Stevenson University's men's and women's soccer teams have begun practices in preparation for an unprecedented spring season. Instead of playing their seasons in the fall, like in years past, both teams will now be playing in the spring alongside other fall and spring sports.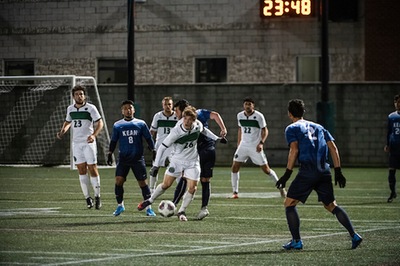 To help reduce and neutralize the spread of COVID-19, both teams have a "return to play policy," where they must go through four phases of practice evolution. The plan was created by Associate Athletic Directors Kathy Railey and Paul Cantabene and put into effect by Director of Athletics Brett Adams. The new policy will slowly expose the players to their teammates, as they continue to take precautions with the COVID-19 pandemic.
"Phase One" of the soccer teams' return to play exclusively consists of lifting and conditioning in groups of no more than ten players. "Phase Two" allows for non-contact or socially distant practices to be held in groups of 10. "Phase Three" allows for contact so players can come into proximity of each other during drills. "Phase Four" includes competition so teams can have inter-squad scrimmages and games. For the teams to advance from one phase to another, additional testing, along with limiting the spread of the virus, is required as directed by Adams and University President Elliot Hirshman.
Both teams are currently in "Phase Two," which consists of three practices a week that are non-contact in nature, in addition to two days of lifting. As a result, practice drills focus primarily on the fundamentals, such as pass patterns and footwork. Both teams hope to get to "Phase Three" sometime this fall, allowing for contact among players to resume. Again, to do so, the teams must wait for further testing to be done, demonstrating a decrease in COVID-19 spread.
Head coach for Stevenson's men's soccer squad, Graeme Millar, said that it's nice to be back on the field.
"(The players) are motivated to get out there," Millar explained. "They've responded well (to the practices), and we're pretty pleased with the development plan we have right now."
Sophomore defender Thomas Markey agreed with Millar's sentiment, stating, "Everybody's just happy to play at all. The morale's been good, and the energy's been good." Head coach of Stevenson's women's soccer squad, Tati Korba, said it's been a uniquely challenging situation to introduce the freshman into the program. However, according to Korba, the newcomers have dealt with the contemporary environment well and are enjoying getting out on the turf with their new teammates.
Both Stevenson's men's and women's soccer squads are hoping to kick off their spring season in February; however, a schedule is not currently available. Those interested in keeping up to date on the Mustang soccer teams' progress overall can find more information at
Donate to Stevenson Villager
Your donation will support the student journalists of Stevenson University. Your contribution will allow us to purchase equipment and cover our annual website hosting costs.