This semester, Stevenson University's Dining Services introduced an updated version of Sodexo's Bite app, now dubbed "Bite by Sodexo – Universities." The new and improved application is a proverbial pocket guide of all things dining services-related for the Mustang community.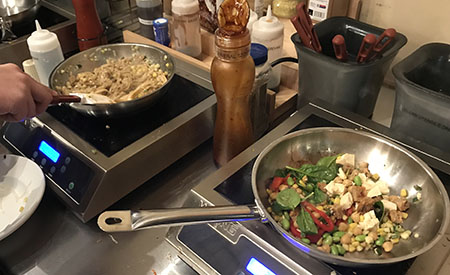 The app includes crucial information about the dietary makeup and prep of each dish at Rockland Marketplace and Pandini's, be it soup, salad, sandwich, or dessert. Nothing is a secret. Users can even filter dish options by type—mindful, vegetarian, vegan— as well as by calorie count and allergens. This navigational ability cuts down meal-browsing time for users who must avoid certain food products like gluten, shellfish, nuts, and dairy, among others. And with full nutritional facts included for view with each menu item, the Bite app makes ordering at these establishments a simple, pain-free process.
Victoria Carter, a senior psychology major at SU, who has been using Bite for over a year said that her favorite function is her ability to see what's available on a menu remotely. "The app helps me decide whether or not I want to visit Rockland based on the menu choices for the day," she explained.
Due to the pandemic, Pandini's is now offering a remote ordering capability. Jim Butler, General Manager of Sodexo Dining Services at Stevenson University, said that he believes students will likewise appreciate the ability to place orders in advance. "They will be able to walk right in the door, step around the line, go clear to the end, pick their food up, choose a beverage, and go on," Butler explained about the process, which operates similarly to that of Starbucks via the Starbucks app. Depending on the order, meals from Pandini's can be picked up in as little as 20 minutes or placed hours in advance. Users can pay directly through the app by using their meal cards or flex dollars, making the opportunity, as Butler put it, a "really remarkable convenience."
Butler also spoke about his Sodexo team's hope to continually add functions to the app in the near future. Such future options may include expanding the menu at Pandini's and adding even more menu-viewing options for SU's various campus dining locales.
Members of the Stevenson community can download Bite via the Apple App Store and Google Play. Sign up is quick and easy – new users simply create a Sodexo account, type in Stevenson's location code – "A3R52" – then, if applicable, link a campus meal plan/card. After these steps, the ability to order and customize meals is instant.
For more information about Bite by Sodexo – Universities, visit https://bite.sodexo.com/universities.html