Class in-person vs. class online: what's the difference?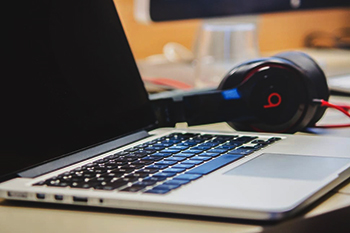 The 2020 academic year saw Stevenson students and faculty experience classes in person in the fall and online in the spring, but it wasn't until the Spring 2021 semester that virtual and in-person learning overlapped. Due to the COVID-19 pandemic, Stevenson students and faculty had the opportunity to choose whether they would teach/learn remotely or be physically present in the classroom.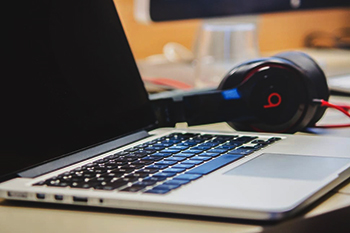 Prior to these "hybrid" courses, it was either all in person or all online, and with this overlap came some very noticeable changes to the classroom environment. There is now a maximum occupancy limit in each classroom to assist with social distancing; plexiglass shields have been placed on tables as added protection; the use of face coverings is required by all students/faculty; and laptops are used to help students at home see exactly what is happening in the classroom or at the board.
While students who are in-person and students who are virtual are taking the same courses and are being taught the same content, both experiences are very different. Two students who are experiencing different formats shared their take on the experience and how they feel it is impacting their learning.
Maggie Hetman, a sophomore Graphic Design major opted to take all her classes remotely this semester and said that she misses "in-person classes because that's the traditional college experience." However, she believes she is getting the same experience when it comes to learning the material. While it is a much different experience, Hetman expressed that she is satisfied thus far with virtual classes and does not think that her ability to learn has been hindered, because she is "learning the same information, whether I'm listening in person or on the computer."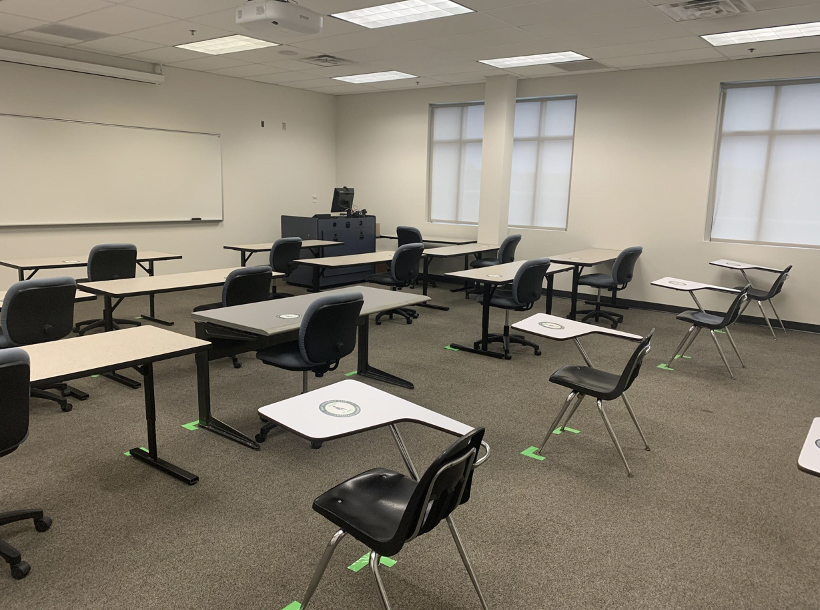 Cassidy Butler, a sophomore Business Communication major, said she opted to take classes in person because she believes she learns better in a face-to-face classroom environment. She also pointed out that should there be a need for her to not attend class on a particular day due to illness, being able to hop on the computer remotely is at her fingertips as a second option.
While it is important for students to feel safe in the classroom, it is equally important that professors feel safe as well. Dr. Leeanne Bell is a professor in the Department of Communication Programs and is faced with the challenge of teaching students who are present both in the classroom and online. Bell emphasized that the course content and workload are the same as they have been in year's past and believes that students are learning in the classroom, despite some of the distractions that may come with health precautions.
She also noted that with virtual recordings, students have the opportunity to "re-watch a section of the lecture that was confusing" if they do not understand something in class. With the rapidly rising number of vaccinated Americans, Stevenson hopes more students will continue to come back to campus and engage in face-to-face learning for Fall 2021 and beyond.
Donate to Stevenson Villager
Your donation will support the student journalists of Stevenson University. Your contribution will allow us to purchase equipment and cover our annual website hosting costs.