As Stevenson University transferred into a more remote setting this past school year, many new and existing resources are now available online to help students. Online resources may be hard to locate or discover, so here is a master list of services that students can access and take advantage of, all while being completely remote.
Stevenson's Academic Link has shifted to offering virtual learning services to simultaneously promote safety and academic success.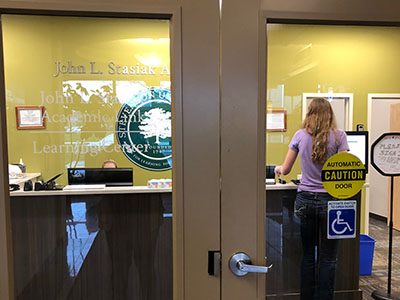 Tutoring services, including content tutoring, writing tutoring and PAL tutoring, are all being offered online via BlueJeans. Students can schedule a live, virtual appointment by contacting the Academic Link Desk via text, email, phone call or can sign up online with TutorTrac. Information on how to use TutorTrac Online can be found here.
For writing tutoring, there is an option for students to submit their documents early and have a follow-up appointment to review the materials and feedback. Students should submit the materials to a writing tutor at least two business days prior to the scheduled appointment. This option is ideal for getting a document reviewed, drafted, revised and edited, according to https://now.stevenson.edu/academic_affairs/studentsuccess/academiclink/Pages/Virtual-Learning.aspx.
Drop-in writing tutoring sessions are also offered at a first-come, first-serve basis and depend on tutor availability. Students should call the desk to see if a tutor is available.
The library's website offers a plethora of online, remote resources available for student success.
The library's AskUs! page allows students to submit a question directly to Stevenson's librarians at any time. This page also features a backlog of students' answered questions that are free to view and browse.
Additionally, online course guides and subject guides provide an easy, self-service option for students looking for information and materials on a specific class or topic.
On the library's OverDrive page, Stevenson offers a virtual library of e-books that are available for free. Students can log in and borrow books for up to 21 days and have the ability to read them in a browser, download the e-book or view on the Kindle app. Students can only borrow up to three titles at one time.
Stevenson's dining services now offers a website where students can view the hours and menus of every dining area on campus. The menus are updated daily so that students can take a look at what is being served without having to leave their dorms.
There is also the option for students to use Stevenson's BITE University app to view menus and even order pick-up from Pandini's.
Stevenson's fitness services have also altered their operations to be more remote as well. Students can now reserve workout times online for the Caves and Garrison Hall Fitness Centers on campus to reduce capacity and adhere to social distancing guidelines.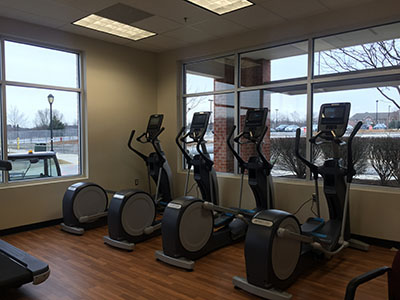 Campus Rec is also offering weekly virtual fitness classes during the Spring semester. These classes are held on Instagram and YouTube every day, Monday-Friday. The schedule for future online fitness classes can be found here, as well as recorded sessions from past semesters.
The Career Connection Center (CCC) on campus is offering multiple online services for students. Career advising appointments can be scheduled using the Handshake app and are available by phone or via Bluejeans.
The CCC is also hosting drop-in career advising on Wednesdays from 2-2:30 p.m. and Thursdays from 10-11:30 a.m. via BlueJeans. Students do not need an appointment to attend these sessions.
Other events, such as Virtual Career Chats and Industry hours, are being hosted and the schedule can be found here. The Virtual Career Chats focus on helping students get the most out of their online resources, help craft resumes and assist in job searches. The Industry Hours events give students the opportunity to interact with employers in specific industries and learn information on available positions.
The Wellness Center is offering virtual appointments for health or counseling services. Students should call the Wellness front desk to make appointments for either service. In addition, the Wellness Center's Student Assistance Program (SAP) is available to students and provides free, confidential support to help manage life's challenges. The SAP can help students facing anxiety, academic or work stress, burnout, depression and other issues. Students can visit https://portal.bhsonline.com/, sign up for an account and can connect with a Student Care Coordinator to receive help and resources.
As a reminder, this is not an exhaustive list of all online resources offered at Stevenson University, rather just a way for students to view and access available resources at once.