Communication professors, Dr. Deric Greene and Dr. Heather Harris, invite students to "come and take a seat at the table."  Inspired by Shirley Chisholm's famous quote, "If they don't give you a seat at the table, bring a folding chair," the Roundtable's goal is to foster communication in an inclusive setting.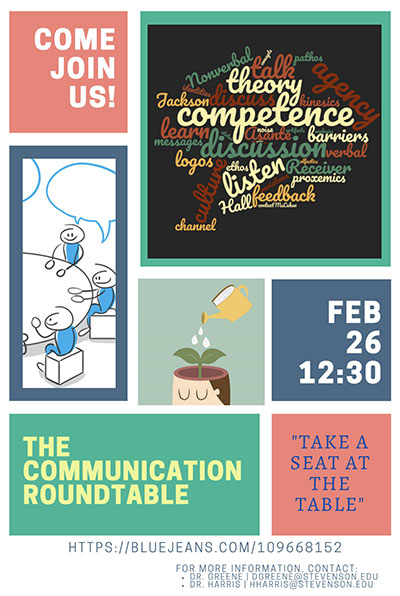 The Communication Roundtable is a newly formed communication club created by professors Greene and Harris and is open to all students. While Greene and Harris are overseeing this club, their hope is to spark communication-related conversations and promote a student led club. The overall purpose of this club is to create a space for students to have open conversations within a framework of communication theories, issues, and topics discussed in communication classes.
Additionally, the professors hope to use these frameworks to analyze special artifacts that students examine on an everyday basis such as articles, TV shows, human interactions, movies, and more. According to Harris, the club is designed to create "communication for empowered living. The students determine the outcome. We just help them frame it, and the learning they gain is the takeaway."
The first Communication Roundtable meeting previously took place on Feb. 12, from 12:30 p.m. to 1 p.m., on BlueJeans. At the start of meetings, students can expect a highlight moment of a Black communication theorists, in celebration of Black History month. Greene then shared some of their goals for this club which are to develop life-long communication competence, encourage agency, generate communication scholarship, and provide a communication lens through which to discuss socio-cultural issues. Some activities students can anticipate from this club are being a part of communication conferences, internal discussions, external panel discussions, the ability to hear from special guest and speakers, and partnering with other clubs and schools.
The next meeting will take place on Feb. 26, at 12:30 p.m. to 1 p.m., on BlueJeans, https://bluejeans.com/109668152/3653?src=calendarLink&flow=joinmeeting. Students can expect meetings to occur every two weeks on Fridays at 12:30 p.m., and the club will meet for approximately 30 minutes. Those seeking more information about this club are encouraged to reach out to the Roundtable leaders.
Greene is hoping to see participation in this exciting new club. "Those that participate will leave with a sense of identity and empowerment. As well as, the way in which they perceive the world will be broaden by a discipline of communication, broadening one's scope, lens, and understanding ones identity," Greene said.