By: Connor Lutts, Sasha Shaffer, Jasmine Mendez-Paredes 
The photo art exhibition "Reflecting Us Series: Alternative Processes" allowed students to see the diversity of the LGBTQ+ community through the lens of Dr. Smith's LGBTQ+ Literature and Culture class and Professor Volkova's Historic Photographic Processes class.
Both classes showcased their work on Nov. 9, at the School of Design Gallery. The reception began with an open dialogue between students sharing their experiences with identity.
"We got to talking about putting these two… [classes] together," said Dr. Smith, "One group [of students] share the history of representing individuals through portraits. The other group was learning about the history representing the LGBTQ+ community in terms of identities and the way that's changed over time."
At first glance, one can't help but notice the photographs perfectly aligned with the grid wallpaper. The exhibit incorporated a hypertext wall varying with poetry, prose, and reflections labeled with identity flags. The text delved into themes such as intimacy, family, heterosexuality, homosexuality, intersectionality, and more. Within the hypertext collage was an immense display of Zoe Leonard's poem, "I Want a Dyke for a President," where members of the audience had the opportunity to highlight resonating lines.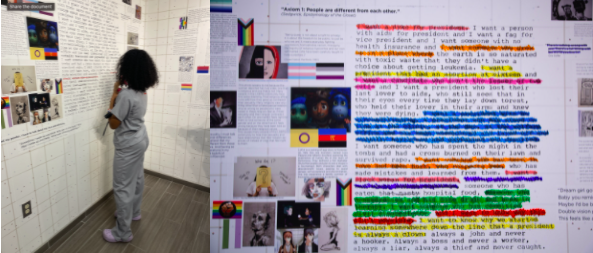 "We read a variety of texts throughout the year on queer theory," said Alexis Miller, a student from Dr. Smith's class. She continued, "We got to choose ten or more texts we read throughout the semester and planned out how we want to port the exhibit itself as far as heterosexuality and homosexuality."  
"[The exhibit] ended up writing based and more personal than I thought," said Jeremiah Zaeske as he described his experience collaborating in Dr. Smith's class. Zaeske elaborated, "People have different experiences and perspectives on their identity and how it relates to other things… Everything is connected in some way or another… sexuality and gender are one part of your identity."
Parallel to this body of work was a historic timeline of different photographic processes used from the mid 19th and 20th centuries. Some techniques used in the exhibition include Salt Prints Cyanotypes, Wet Plate Collodion, and Silver Nitrate photography. 
As stated by Professor Volkova, "Salt prints are the very first photographic technique that was invented in the 1830s in Great Britain by scientist and thinker [William] Henry Fox Talbot." The process begins with, "Cotton paper, apply a layer of salted water, then apply a layer of silver nitrate then use negatives to make a contact print," according to Professor Volkova.  
Another technique used is the wet plate collodion. Photography student, Morgan Foell, described the process with the technique, "we leave the photograph out in the sun for ten minutes then wash it off with water." Other historic photographic processes incorporated in the exhibit were Pinhole photographs which utilized a homemade box camera with a pinhole in the center to take a picture; and Cyanotype photography, also known as, "the blueprint process."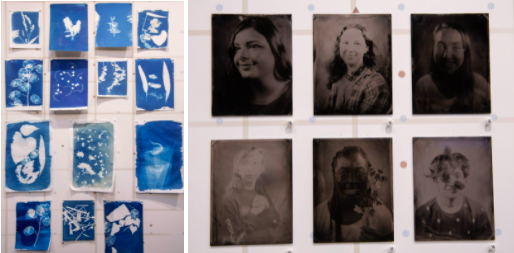 "[Dr. Smith's class] presented a great deal of research and quotes and my [photography] students responded to quotes. Then I came to Laura's students and showed some photography through the history that evolved from modernist ideas or abstraction to post-modernist ideas of identity and representation on photography," said Professor Volkova.
The exhibition will remain open until January 25th for both students and faculty to visit.