By Jackie Nesbeth and Grant DeVivo
COVID-19 impacted the world in terms of its medical devastation, but on another level as well. Hundreds of thousands of students had to adjust to virtual college while the world tried to beat COVID-19. Now, the class that started at the height of the pandemic is moving into its final year and as restrictions are lifted, students are gearing up to step out into the job force.  
Student Ambassador Jarrett Porter, a rising senior Accounting major with a minor in Economics, expressed regret for how COVID changed his college experience "I had one normal semester considering that this spring semester had been my first normal semester here," Porter said.
Porter said that COVID had a negative impact on his relationships. "I had a good sense of my friends and a really good group of people. Then COVID happened and I stopped talking to them." 
Even with all the time COVID took away from the college experience, many students like Porter still have one full year to appreciate what college delivers. Unfortunately, not everyone is in the same boat. Some finish up their college experience in December of 2022. Kristin Battinger, a Business Communications major with a minor in Marketing, is one of them.
"I wish that I could be here [at Stevenson] a little longer," she said while recalling the one "normal" semester she had in the fall of 2019. "I'm hoping that my last one is going to be similar to that [first semester]."
Battinger said that she is sad that she will never know a more conventional college experience, like the one she might have had if not for COVID. "I'm definitely going to miss all of the experiences that I didn't get to have here but I'm ready for the real world," she confidently added.
Aubrey Gerdhart, a Student Ambassador majoring in Criminal Justice with a psychology minor, knows just how Battinger feels. Gerdhart is also graduating in December and is experiencing the same hurt that COVID has left on her fellow classmates.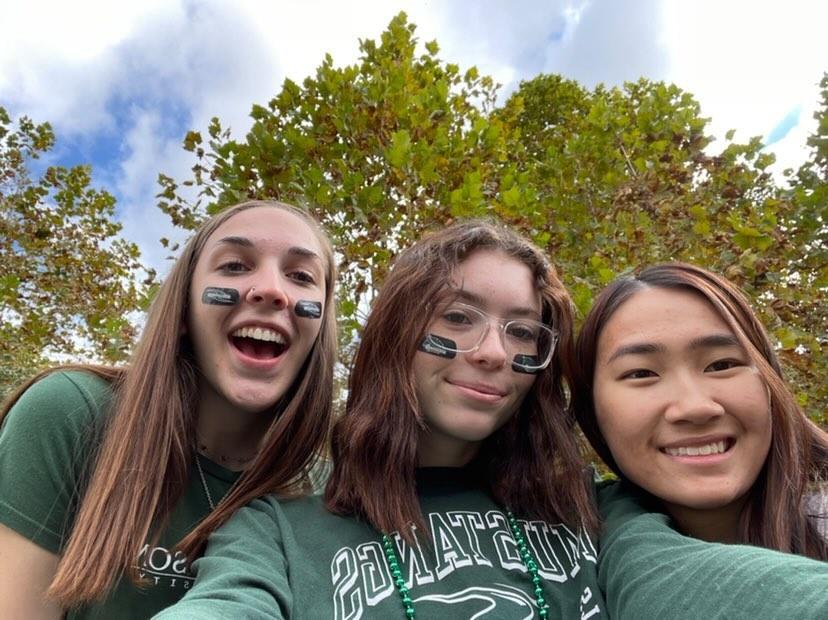 "I'm a firm believer in 'everything that happened was meant to happen,'" Gerdhart said, "but when it comes to COVID, it just breaks my heart that everyone else had a really fun, constructed four years of college. I'm cutting it short either way by graduating early, but it was cut even further down to being sent home [for the pandemic].
"It was a little bit of a heartbreak," she continued. "But coming back [when things opened up again], I feel like it made me want to make the most of every moment. I feel like it made me appreciate it more, but I definitely wish I could have had a sophomore year and the rest of my freshman year."
With the semester coming to an end, students like Battinger and Gerdhart are feeling the effects of senioritis before even becoming seniors themselves.
"My senoritis has definitely kicked in early, especially knowing that I'll be graduating a semester early," Battinger said about her senioritis.
With the semester's end quickly approaching, Gerdhart recounts her feelings about her final weeks as senioritis slowly starts to set in, "I'm pretty much done [my schoolwork] right now and I just want to hang out with my friends and enjoy the end."
"I feel like an aspect of [college] senioritis is different from high school. In high school you're like 'I'm going to college!' and in college you're like 'well I want to graduate but I don't want to go into the real world." said Porter.
Despite the difficulties students have faced over the past two years, their perseverance has shone through and with only two semesters left, the rising seniors are making plans for post- graduation in a post-quarantine era.
Porter, an intern at an accounting firm in Lutherville Timonium, plans to secure a full-time position there. Battinger is also seeking full-time work. Gerdhart, though still undecided about what is next after Stevenson, talked about how she might want to take her knowledge of psychology to the next level and work with trauma.
The focus for all of them, however, remains their final year at Stevenson.
Battinger expressed her excitement about being president of Stevenson's It's On Us club next year and expressed an interest in continuing her internship. In general, she wants a strong finish to her college career. "I want to finish off all of (my) classes," she said, "get good grades, and end on a good note."
Gerdhart is the president of the forensic science club and the soon-to-be president of the criminal justice national honor's society. She says she wants to have fun at Stevenson one last time and then pass the torch onto the next generation of Mustangs. "I want to plan fun events for my clubs so I can give it back to the people that come after me," she said. "Through that, I'll have a good experience in college. I'll have these memories for years to come."
Porter, who also plays for Stevenson's club baseball team, emphasized how he wants to balance his work hours and schoolwork with simply allowing time for himself. "I just want to have more fun," Porter simply put it.