By Karli Banas 
Student Life Editor
On a typically warm September morning in Baltimore, people wearing winter coats stood along Redwood Street, downtown. Christmas decorations surrounded the street. Two vintage cars were strategically placed in view of TV cameras.
And the Stevenson University Band marched down the middle of it all.
The Apple TV Series, "Lady in the Lake," starring Natalie Portman, is being filmed in Baltimore and the Stevenson Marching Band had the opportunity to be involved in filming.
Filming was originally scheduled for Sept. 7 but was postponed due to rain. Despite the weather, Portman was still able to film her scenes on that day, so Portman was not present on set with the band the day of filming. The series, directed by Alma Har'el and executive produced by Amy J. Kaufman, likely will not air until 2023.
As a member of Stevenson's marching band, I had the unique experience of being on the TV show set.
On Sept. 8, my alarm went off at 2:30 a.m., and I made my way down the hill to get on the bus at 3:15. As I stood in line to get on the bus, I could feel the excitement from the students around me as the tiredness had not yet set in. We were transported to the War Memorial, which was the preparation area, where we were greeted with a COVID-19 test and were sent in for costumes.
The dance line, which I am a part of, and the color guard attended a fitting the Friday before filming. There was some confusion at the fitting with me and a couple other dancers ending up in a color guard costume for no given reason. I didn't mind the change in costume since I was told the dance costume was very uncomfortable.
The dancers wore sparkly green dresses and had a big bow in their hair. It was very different from our usual sparkly top and black pants. The green was a lighter green than the emerald green on our Stevenson uniforms.
The color guard costume I wore was a black jacket with gold trim, a black skirt, white boots, and a band hat. The rest of the band wore the same jacket and hat with their typical black pants and shoes, along with white gloves.
Our costumes didn't have as much of a vintage feel as some of the other costumes that were present on set.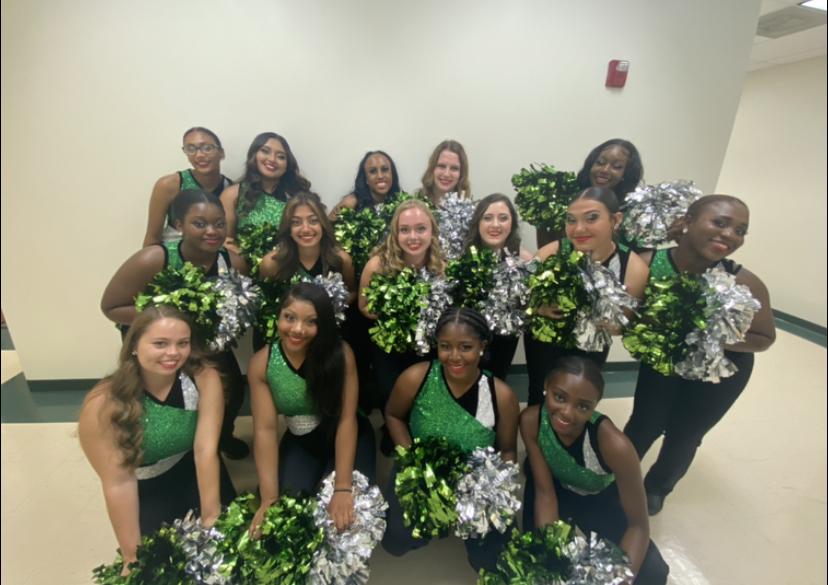 Some of the costumes tried on at the fitting went missing, so me and some others had to be refit. The wardrobe team tried its best to resolve the issue quickly, but they were greatly outnumbered by the extras needing costumes and the wardrobe area was fairly small and cramped. It was a long process, but once it got straightened out, we headed to hair and makeup.
It didn't take long for the guy to put my hair in two braids and when I went to get my makeup done all I was told was to take off my nail polish. Other students had to cover visible tattoos and piercings for historical accuracy, but other than that they didn't do much makeup.
We were given breakfast then headed outside to practice in the park across the street. We did a number of different marches, which were recorded and sent to the producers. Then we gathered our stuff and walked over to the set on Redwood Street.
Parade floats were set up on the street and it was reminiscent of the Macy's Thanksgiving Day Parade. There were many extras present on the set-in addition to the band including townspeople, reporters, clowns, and other parade performers including Santa Claus.
Since I was in the color guard uniform, I was asked to twirl a flag with another girl. The flag had a wooden pole which made it very heavy, and I had a hard time with the routine I was shown in a five-minute tutorial. After a few runs of the scene, a man came over and asked me and the other flag girl to switch to carrying the banner upfront.
Carrying the banner was easier than doing the flag work, but the top of the banner was broken, so we were told to position our arms in a certain way to make it look straight on camera.
The band was instructed to march to the musical track that was played, and those who had instruments were instructed to pretend to play.
There were a ton of people working on the set, running around, and making sure everything went according to plan on set. From making sure costumes were in order, to ensuring that everyone was positioned properly, to making sure modern-day objects stayed out of the scene. There was someone looking out for every detail of the scene.
They filmed us marching several different times and several different ways. Sometimes we didn't march very far, sometimes I had to quickly turn and run off with the banner, and sometimes we had to march off the set completely. The street we were filming on wasn't very long, so the different takes will be edited together to give the illusion of a longer parade.
It was a long day of filming, and we were all in pain from standing for so long. We were there for a total of 16-and-a-half hours. Although it was an exhausting experience, it is one I will never forget, and I am grateful to have been given the opportunity.
Once the band was dismissed from filming, Director Alma Har'el came running over to congratulate us. She insisted on taking a group photo with all of us and praised us for our hard work.
Band Director Dr. Mark Lortz was honored to have the band be included in such a major project.
"It was an incredible thing for the students because of the fact that it is a once in a lifetime opportunity," Lortz said.