2-0 start has women's ice hockey excited for what the highly anticipated new season could bring
By Grant DeVivo 
Villager Sports Editor 
Stevenson women's ice hockey is gearing up for a new year. With the Reiserstown Sports Complex's ice smoothed out and players skating around the rink with their sticks in hand, the women prepare for what is a highly anticipated season within the team and those that follow them.
The women's ice hockey team went 12-12-1 overall last season. They scored 57 goals, averaging 2.3 goals per game and totaling 74 assists. They handled the Mid-Atlantic Conference very well, however. Their 8-1-1 conference record earned them their fourth consecutive conference championship and punched them a ticket to the MAC quarterfinals where they ultimately fell to Chatham College. As a result, they have been selected by the MAC preseason coaches poll as the favorites to win the conference again.
2022-2023 is a brand-new season, and the Mustangs look to build upon last year's play as they push to get deeper into the postseason while pursuing a United Collegiate Hockey Conference championship. So far, the outlooks of the season are very encouraging, and the team is just two games into the season.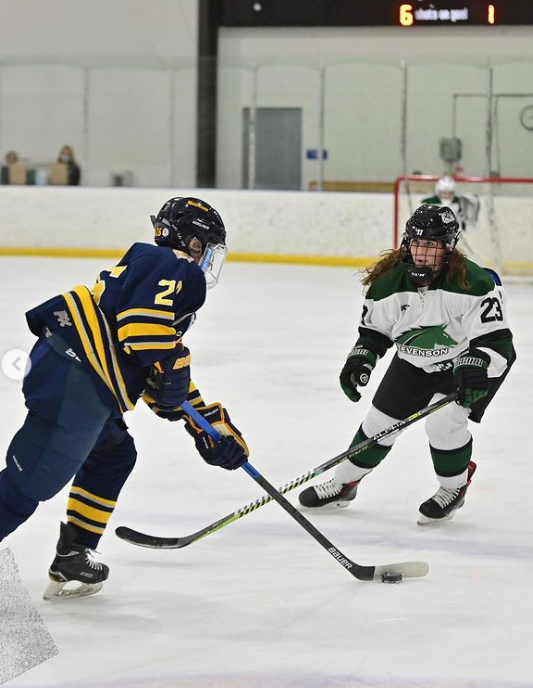 "We had a good preseason that really transitioned well into our exhibition game with Arcadia, and it really transitioned well into our home opener," said senior defender KaliJo Zagula. "It is just a really good start with our whole team coming together, working hard, and finally getting a chance to play opposing teams."
The Mustangs opened their 2022-2023 season with a two-game weekend set this past weekend vs. Trine University (Angola, Indiana). In front of the home crowd, they swept the series with scores of 4-3 and 3-2. Any sort of winning start to a season like this would give any team a confidence booster, and Stevenson women's ice hockey is no exception.
"[Beating Trine] helps going into future games as far as competition [because] it will get harder," said fifth year forward Tea Ferrara. "It shows what we have [as a team]. Once we reach our match of performance, I think we are going to be a tough team to beat."
"We are starting the season the exact opposite of last season," Zagula said. "It feels good to be stepping in the right direction on a good foot forward [while] reaching our full potential."
So where does Stevenson women's ice hockey go from here? Both Zagula and Ferrara discussed how the team is setting goals and "pushing the culture forward."
"Culture is one of the big things that we have within our team," Ferrara said. "Core values, how we represent ourselves in the school, and hard work [are big things] that we do [and focus on]."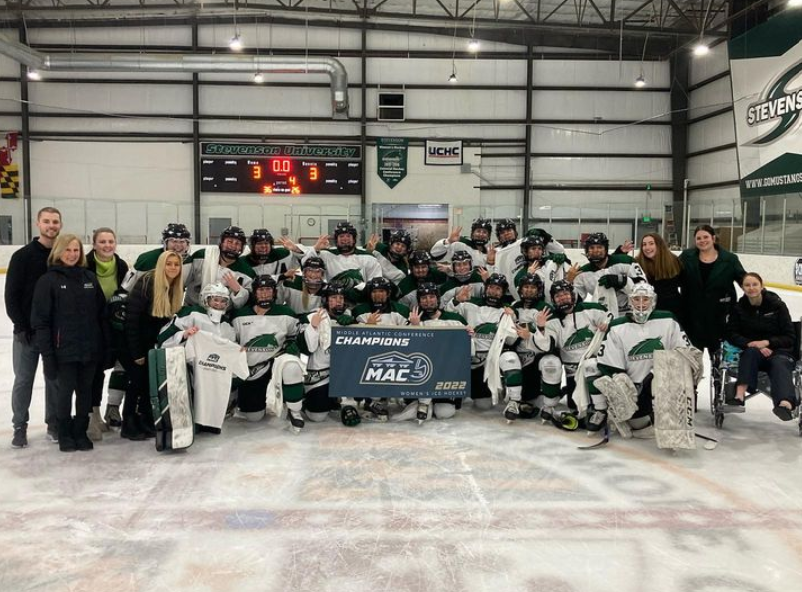 Zagula, a 2020-2021 All-MAC Second Team selection with 6 career goals and 21 career points, mentioned the team's idea of measurable goals and their one big overall goal each and every year: win the Mid-Atlantic Conference. Why not? They have that streak of four straight conference championships and they do not plan on stopping anytime soon.
"We always set [winning the conference] as one of our goals that is measurable, that we can reach and we know that we have the potential to," Zagula said. "It should be really interesting to see how we work throughout the season and build our endurance, our stamina, and our play to reach those goals."
The Mustangs were very upset to have fallen back a place in last year's UCHC predictability rankings behind teams like Chatham. Fueled by what they believe was a mistake, moving back up in the rankings and even advancing a few extra slots will be a big goal moving forward into the 2022-2023 season, according to Zagula.
Leadership is one of the most valued traits of a team, and the Mustangs have a trustworthy squad of leaders to set the example and achieve their goals.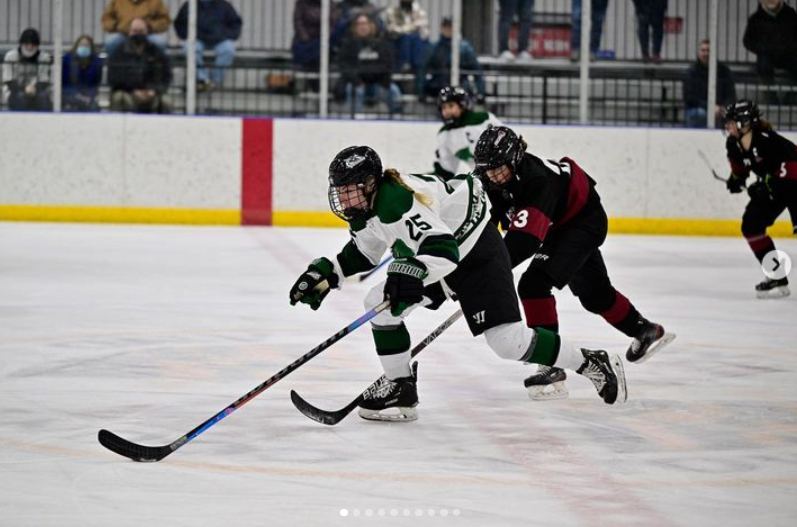 They chose the accomplished and well-experienced Ferrara, as team captain this season. She enters her fifth year with 13 career goals, 36 career points, 190 career shots, and 23 career assists. She was also named a UCHC player to watch this season alongside senior forward and 2019-2020 All-MAC First Team selection Karly Aguirre (6 goals, 9 assists, and 15 points last season) and senior defender and 2020-2021 All-MAC First Team selection Ashlyn Bray (2 goals, 2 assists, and 4 points last season). Zagula, Aguirre, and junior forward Emily Brightbill are backing her up as assistant captains.
However, those four alone do not expect to lead this team alone, as they explain how anyone up and down the roster can take a leadership role.
"Leadership is shown in different ways whether you are more of that vocal person or whether you lead by example on the ice, in the weight room, or even in the classroom," Ferrara said. "Everyone on the team has some sort of leadership skills that they bring to the team."
Nonetheless, the captains remain honored to be chosen at their ranks, saying that they feel honored that their team trusts them to be their captains.
"I definitely think it is an honor to be a captain knowing that our team stands behind us and respects us and feeds off our work ethics," Ferrara said about being named captain. "I hope that [our work] feeds off to them, that we lead by example and that they can feed off our energy."
"It is just awesome to see all the girls supporting one another whether you have a captain [logo] or A on your jersey or not," Zagula said on what she has seen as an assistant captain. "It is just so awesome to work together and finally be able to voice and be an example on and off the ice."
Their leadership will come in handy when guiding this year's huge freshman class. Ferrara and Zagula are really excited to get a look at the new Mustangs. Nine players make up the first-year class, and both Zagula and Ferrara believe that they will contribute a ton to the team's success this season.
"We are a really young team," Zagula said. "It is really awesome to get [the first-year players] on the ice, to get them in our culture and work hard."
With the goals they have set and with the team chemistry that they have created this early in the season, Stevenson women's ice hockey seems to have created a blueprint for success this season. The season is just beginning, but the team's message is clear: expect big things from Stevenson women's ice hockey this season.
"We are just scratching the surface since the season is just beginning," Ferrara said. "We are in the direction of success right now."
The Mustangs are back to work this weekend with a two-game road trip to SUNY Cortland. They will play Friday and Saturday in Cortland, New York, and both games will start at 3 p.m.