TOURNEY TIME
Stevenson women's volleyball qualifies for NCAA Tournament, will begin tournament play on Thursday
The season for Stevenson women's volleyball is not over yet! 
On Monday, the Mustangs were enlightened to hear that they qualified for the 2022 NCAA Tournament. They will enter the tournament as the No. 3 seed. 
Yes. There is still volleyball to be played in 2022.  
The Mustangs finished their regular season with an impressive 25-5 overall record and a 7-1 Mid-Atlantic Conference record. A pair of win streaks that included key wins over conference rivals like Widener and out-of-conference opponents like Johns Hopkins propelled their incredible season performance. 
So how exactly did Stevenson compile such a season to win a bid for the NCAA Tournament? 
For starters, Stevenson's defense excelled this season. They kept their opponents to a .130 hitting percentage, which was ranked 77th best in the conference. Their 15.9 digs per set and 2.0 blocks propelled their dominant defense this season. Senior defensive specialist Kayla Vaeth was responsible for 462 of the Mustangs' digs this season, and those contributed to her milestone 1,000+ career digs. 
Offense was their ally as well this season. The Mustangs' .230 hitting percentage was ranked No. 26 in the MAC conference. Senior middle hitter Sarah Straub contributed to the team's 26th best offense with a .309 hitting percentage of her own, and that sits at 97th best in the country.  
In addition, a handful of key individual performances really uplifted the Mustangs this season and helped earn some individuals some special recognition. On Tuesday, it was announced that senior outside hitter Shannon Bailey was named to the all-conference first team, while Vaeth and Straub received selections to the all-conference second team. Junior outside hitter Rileigh Kimball received an all-conference honorable mention. 
So what is next for the Mustangs?  
Head coach Dave Trumbo's squad will look to take their talent to the big stage at the NCAA Tournament. There is a total of 432 Division III woman's volleyball teams in the United States of America, and Stevenson was one of the 62 to be selected for the tournament. 
"We were all very excited to find out our season was continuing," Vaeth said. "Very few teams get the opportunity to go to the NCAA tournament so it was exciting to see that our hard work during the season paid off to get an at large bid." 
The team is excited to have their season extended especially after when all seemed to be complete after a heartbreaking loss in the MAC Commonwealth championship game vs. Eastern College. 
"Losing in the MAC championship final was disappointing but getting the chance to play and extend our season is always exciting especially when it is something as big as the NCAA tournament," Vaeth said. 
"While the MAC championship is important, the NCAA tournament is tens more meaningful and important to do well in," sophomore setter Makala Thompson said. "The NCAA is the top teams in the whole country while the MAC championship is the top two teams in our conference."
"We all know Eastern is a good team, so I think the loss stung but we can use that to prepare for the second chance we have now," Bailey said. 
In the days and hours leading up to the tournament, the practice and preparation that the Mustangs have put on the court appears to be paying off. Vaeth, in particular, sees her team as fully ready-to-go. 
"We are as prepared as we can be going into the NCAA tournament," Vaeth said about how the team looks heading into the tournament. "We have had good practices leading up to the tournament which I think will roll over to the court in Connecticut." 
The Mustangs acknowledge that they still have some minor things to fix heading into the tournament, where the competition is ramped up a bit. Bailey said they specifically want to work on keeping their heads up with more self-positivity and less self-negativity. Thompson said that they will dial in more than before and work hard to stay mentally focused on the court. Vaeth emphasized how they will be more aggressive towards the ball and go all out for any ball that comes their way. 
The one thing that the Mustangs want to carry into the tournament is the close bond that they have grown as a team this season. The relationships that they have as a team on and off the court have been the backbone of their exciting and winning season so far.  
"I think some positives that we will take into the tournament are our ability to stick together on and off the court and our love for the sport," Bailey said about the team's close bond heading into the NCAA Tournament. 
Everything will be put to its biggest test in the tournament, however. That alone does not seem to intimidate the Mustangs much. 
"I think winning against tough teams like John Hopkins and Swarthmore has really given us confidence," Thompson said. "Our team dynamic this year is amazing; we stick together no matter the situation. I think we just need to focus on fixing some minor kinks and keeping our skills sharp." 
The Mustangs have already made themselves known to the MAC Conference. Now, how are they going to walk into the big stage and make their presence known there? Well, there are different perceptions on that.
According to Vaeth, they are going to enter as a small-town team with a big-time force at hand. 
"I hope in the NCAA tournament that the teams will see that we came to play and show them what a small team from Maryland can do," Vaeth said. 
According to Thompson, they are just going to play volleyball. 
"I don't think we really have a message to give off," Thompson said. "I think our focus is on playing our game and showing what Stevenson volleyball can do. The way we play will create a name for us." 
When Thursday comes around, Stevenson women's volleyball will look to say hello by blasting open the doors of the NCAA Tournament and duplicating their 25-5 play.  
The Mustangs' run in the NCAA Tournament begins this Thursday in Middletown, Connecticut, where they will take on Williams College (14-8) in the first round of the tournament. The match is set to begin at 5:30 p.m. 
Donate to Stevenson Villager
Your donation will support the student journalists of Stevenson University. Your contribution will allow us to purchase equipment and cover our annual website hosting costs.
About the Contributor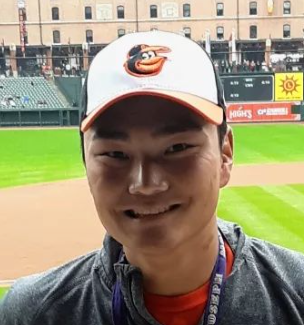 Grant DeVivo, Sports Editor
Grant is a senior from Westminster, Maryland. He served as the Villager's sports editor in 2022-23 after being on staff in 2021-22. He attended Mount St....