MAKING HISTORY
Stevenson's men's and women's swim teams near the end of their winningest seasons in program history; MAC meet looms
The Stevenson University swim program is having a historic season and they don't plan on stopping ahead of Mid-Atlantic Conference championships this week. 
Since the program's conception in 2014, the team has never put together a combined winning record between the men and women. Thanks to coach Clarke Nyman's guidance and extensive recruiting, the men's team finished with an 8-7 record and the women were 9-6. 
Nyman was named interim head coach in 2019 and arrived at a program struggling due to a lack of recruiting. The team was too small to put up a fight against teams that had multiple swimmers and relay teams in each event.  
Nyman knew that to turn the program around, he needed more than just quality; the Mustangs needed quantity. In his third season, Nyman added 14 women and seven men to his roster, effectively tripling the team's size in just one offseason.  
"I take times out of the mix; I look for the right people. I found people who are committed, hardworking, and want to contribute to a close-knit team," Nyman said.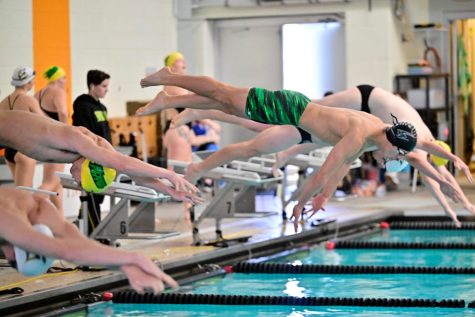 With these new additions, the swim team began to turn the tide, stringing together an all-time high number of wins. The women bounced back from a season opening loss with a six-meet win streak and the men achieved multiple three-meet win streaks of their own. This season alone also saw hundreds of season and personal bests, dozens of new top-five times, and broken records. 
Junior captain Jennie Hudson, as one of the only upperclassmen on the team, knows what this freshman class has brought to the team this season. 
"Having a bigger team this year has brought a completely different atmosphere," Hudson said. "We're having better practices because we're able to push each other more and all around there's a whole different energy at meets." 
The team is poised to show what they're capable of at the MAC conference championship meet Feb. 9-12. Nyman is excited to be busier than ever with a record-high number of swimmers qualifying. 
Freshman Zach Clark is one of the underclassmen who qualified for MACs and is excited to compete in a whopping four relays and four individual events. Clark feels the team's culture has helped them get ready for the final meet of the season. 
"We're really high on accountability and work ethic," Clark said. "We're here swimming in college so we might as well put our best into it so we can see improvement and keep dropping time." 
Stevenson started the 2022-2023 regular season at 13th for the women and last for the men out of 14 teams according to the coaches' preseason poll. Now, thanks to their hard work this season, the mustangs are projected a top 10 finish and can't wait to keep the momentum going into next season.  
"The only reason we were ever last in the conference is because we didn't have the swimmers," Clarke said regarding the team's history. "Now we have the swimmers."
The MAC Championship meet begins this Thursday hosted by the York YMCA in Pennsylvania and continues through final heats on Sunday. Streaming will be available on https://gomacsports.tv/gomac/.  
Stevenson Top-10 Conference Times: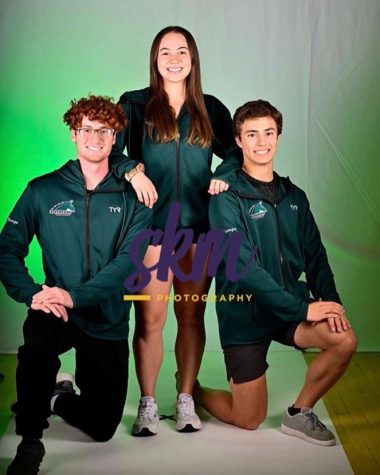 50 Free 
Sean Sopko 9th 21.86 
100 Free 
Sean Sopko 9th 48.06 
Mile  
Bailey Jackson 7th 19:20.06 
50 Back 
Sean Sopko 5th 25.19 
100 Breast 
Jennie Hudson 7th 1:10.66 
50 Fly 
Sean Sopko 10th 24.86 
100 Fly 
Ian D'Angiolillo 4th 52.00 
200 Fly 
Ian D'Angiolillo 3rd 1:57.82 
Hailey Buenneman 7th 2:21.71 
100 IM 
Zach Clark 7th 1:00.21 
Brandon Cogdill 8th 1:00.64 
Brady Gotter 9th 1:01.42 
Mackayla Du 3rd 1:05.08 
Kennedy Coble 6th 1:08.43 
Hailey Buenemann 7th 1:08.74 
Bailey Jackson 10th 1:12.70 
200 Freestyle Relay 
Women's Stevenson (A) 8th 1:44.28 
400 Freestyle Relay 
Men's Stevenson (A) 7th 3:20.00 
Women's Stevenson (A) 8th 3:55.32 
800 Freestyle Relay 
Men's Stevenson (A) 5th 7:25.58 
200 Medley Relay 
Men's Stevenson (A) 8th 1:40.92 
Women's Stevenson (A) 9th 1:57.11 
400 Medley Relay 
Women's Stevenson (A) 8th 4:19.13 
Men's Stevenson (A) 8th 3:43.96 
Donate to Stevenson Villager
Your donation will support the student journalists of Stevenson University. Your contribution will allow us to purchase equipment and cover our annual website hosting costs.