VETS IN CHARGE
Stevenson baseball will be led by a large set of upperclassmen that includes six returning fifth-year students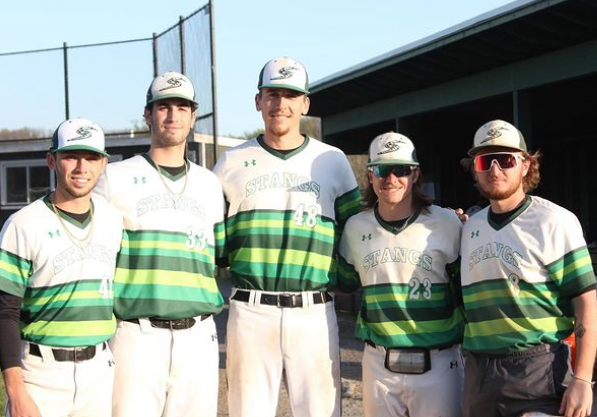 When February rolls around, the itch for baseball hits its maximum. The 2023 season is just days away, and Stevenson baseball knows exactly what time it is. 
With tons of veteran leadership guiding a promising underclass, the Mustangs are expecting a breakout season on the diamond this spring. The Mustangs are focused on a fresh start this season after washing away a challenging 2022 season. In their first full season of action since the COVID-19 pandemic hit, they went 14-25-1 overall, thought they did post a 9-7 record in conference. With the calendar flipping to 2023, a fresh start on opening day is within reach.   
"We had a tough schedule last year," said fifth-year outfielder Tommy Holcomb, who also mentioned that the team faced 16 regionally ranked teams last season. "We are building off that experience with another tough schedule [this season] because we have been in those games before, these seniors who have all been in these big games before." 
Fifth-Year Stars
This year's Mustangs include 18 underclassmen (11 freshmen, 7 sophomores) and 25 upperclassmen (6 graduate students, 9 juniors, 10 seniors). They possess a plethora of veteran leadership that has experience in some of the toughest situations. They expect to use that experience to fight against equal, if not tougher, competition this spring. The Mustangs are set to face three teams who qualified for the Division III College World Series last year.  
The list of fifth-year players includes:
third baseman Jonathan Brandt (.275 BA, 21 RBI, .420 OBP in 2022)
pitcher Matt Reich (4-2, 3.33 ERA, 67 K in 2022)
outfielder Tommy Holcomb (.255 BA, 29 RBI, .363 OBP in 2022)
infielder Billy McAdam (.420 BA, 11 RBI, .583 OBP in 2022)
pitcher Sam Downs (4.29 career ERA, 46 career K)
catcher Trent Smoot (.241 career BA, .341 career OBP, .980 career fielding %)
Sixth-year head coach Dave Gage lavished praise on his fifth-years.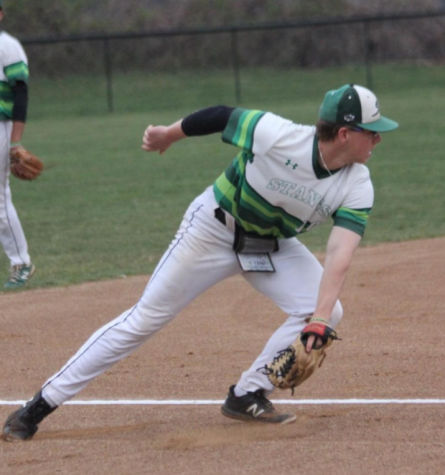 "You cannot be a great leader without being a great person," Gage said. "Those guys are great people that you want to be around every single day. For our younger guys, they can look up to them not only because they are great players, but they are great people. When you have great people in your program, you know you have a chance to be successful." 
Brandt, who hails from Ellicott City, Maryland, made it clear that there is no sugar-coating that everyone came back for one last crack at a conference championship. Nonetheless, he expects this group of fifth-year students and the rest of the upper class to get the younger guys ready to be the future of this program.  
"Our responsibility as upperclassmen is to really get these guys under our wing and teach them about what it is to be a Stevenson baseball player," Brandt said. "We really want to instill all the values that we have been taught just so we can be proud alumni." 
Because of veteran leadership, Brandt says that the team chemistry is strong.
"We haven't had quite a bond probably since my freshman or sophomore year," Brandt said. "I'm excited that all of the guys have logged in, and it has been pretty smooth so far." 
Junior pitcher Jason Labrador agrees. 
"It's a lot of fun to be with the boys every day," Labrador said. "The best part about the game is spending time with your teammates and making good relationships. We're all having a lot of fun but were locked in on being competitive and winning as much as possible."  
The Battery
Reich headlines the list of returning graduate students. A Wantagh, New York native, the ace became the sixth Mustang pitcher to reach 100 strikeouts in a season. He earned the Mid-Atlantic Conference Commonwealth Pitcher of the Year award and All-MAC first-team honors, something that he has always wanted to achieve.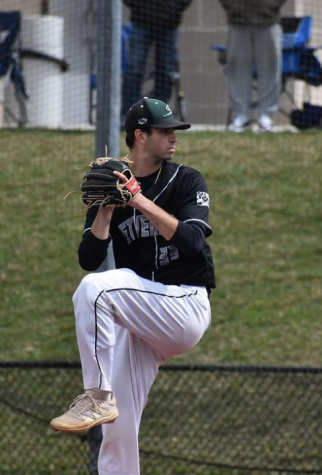 Gage acknowledges that the more experience a player has and the older they are, the more coaches can predict what they will get out of them on the field. Every time Gage starts Reich on the mound, he is confident that he will get a dominant outing in return. 
"Matt is going to give us a great start week in and week out," he said. "We are going to have a chance to win [when he pitches], and you cannot ask more from a player, that consistency." 
Reich cited his confidence as a primary reason why he achieved so much success last season. 
"Whenever I am on the mound, I truly believe that I am better than the hitter in the box," Reich said. "I am never afraid of anyone or any team." 
Smoot, who threw out nine would-be base stealers last season and put up a .983 fielding percentage behind the dish, returns for his fifth year behind the plate as the Mustangs' signal caller. He has an imposing duo to split catching duties with after the Mustangs welcomed freshmen Noah Joly and John Padousis this season. Smoot is helping get both Joly and Padousis ready to take over the reins when the Smoot era ends at Stevenson.  
According to Smoot, it has been "so far, so good" with both of them. 
"They are very young and very talented," Smoot said of the new catchers. "I believe it is going to be a strong core this year and the next four years, as they are still developing freshmen." 
For now, Smoot and Reich are glad to have one more season together as a pitcher-catcher battery, which is considered one of the most important relationships in the game.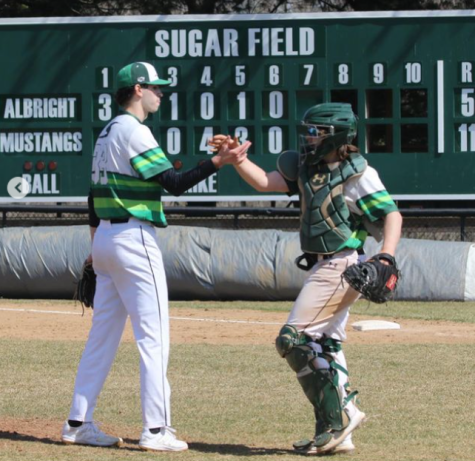 "The connection that we have as pitcher and catcher is truly special," Reich said. "He really understands the way I like to pitch and does a great job pitch calling."
Reich said that the bond that he has with Smoot is encouraged by their off-the-field friendship as roommates for the past four years.
"We have a great bond off the field as well," he said. "It means a lot to me that he's back for his fifth year as well and that we have another shot of winning a championship together. Trent provided excellent leadership and defense behind the plate. I'm excited that we are both back this year and can't wait to get started." 
Downs' Return
The team welcomes back Downs, who recently climbed back from Tommy John surgery, a surgical operation on the ulnar collateral ligament in the elbow. Recovery can take over a year, so Downs is using his fifth year to have one final full season of baseball at Stevenson University. He pitched to a 2.34 ERA in his first two seasons before injuries started derailing his career. 
Gage, whose brother Matt pitches for the Houston Astros, says that getting Downs and Reich make a strong one-two punch in the rotation.
"That is when you can compete for championships, when you have two of those [aces]," said Gage
He also complimented Downs' mental toughness during his recovery.
"It shows who Sam is as a person and what he has come back from," he said. "Coming back from [Tommy John surgery] is mentally and [physically] tough. Sam worked extremely hard to get back to this point. I am excited for him to be able to experience his final season in college baseball."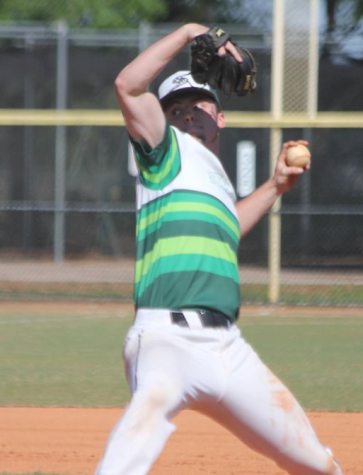 Rising Arms
Reich added that he is expecting to see some younger and blossoming arms take a step up and mature as the future arms of the program once his and Downs' time runs out. With key pieces like star reliever Malcolm Edelin (3.42 career ERA in 4 seasons) departing the team, he says that he is excited to see guys like sophomores Matt Kossey and Carl Sansbury grow on the mound and fill in some vacated spots. 
Pitchers like Labrador have also put in the work to make that jump. 
"I've done a lot of work in this past year to carve out a role for myself on this deep pitching staff," Labrador said. "My goal this year is to just do what I can to help us win. In whatever situation I'm called in for, I want to make sure I can get the job done. I'm really excited to get to work and show everybody what I am capable of." 
Labrador, a Hicksville, New York native, said that his newfound social media fame has helped him mentally focus within the game and promote his progress. He has found success on social media platforms Tik Tok and Instagram with "JayLab Baseball," formerly "Empire State Baseball." He posts content about the life of a D3 baseball player that features videos of his routines as a pitcher and as a student-athlete. 
"I think it'll help me mentally and force me to always find positives, even when I'm not at my best," Labrador said of his platforms. "Posting is what helps me release stress. It all started just because I figured it'd be fun to show the world what I'm all about." 
A Leader Emerging
Perhaps Stevenson's youngest star is junior shortstop Amani Jones. The Mustangs expect Jones to contribute at the top of the lineup. Jones has a career .304 batting average (including a .356 batting average his first year). He batted .289 last season with 41 RBIs while swiping 7 bags and is on pace for 100 career hits this season.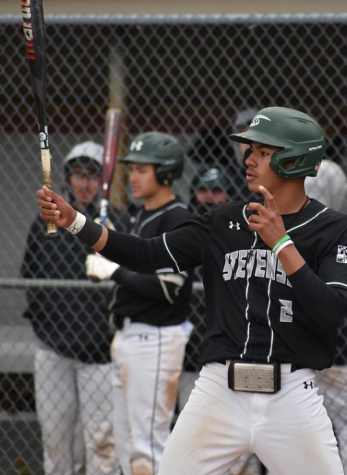 As he progresses deeper into his career, Jones now begins to assume leadership himself from veterans like Brandt. 
"Having these guys around still makes me feel like the young guy," Jones said. "Being able to have those two years before now when we were battle-tested helps, and I hope [those results] translate." 
Gage said that Jones is the best shortstop in the entire MAC Commonwealth conference. 
"He is a great person and a great leader, a lead-by-example guy," Gage said. "He is a guy who is steady for us offensively. When he plays well, we play well."  
Owings Mills East
The Mustangs anticipate a lot of good things this spring. However, one standout feature of their 2023 season will be their debut season on their brand-new home field at the new Owings Mills East campus, the 117-acre recreational expansion that opened in fall 2022. The guys have already begun to use the Owings Mills East baseball field with the alumni game being held there last fall and several team workouts being completed on the field.  
In one word, Gage described Owings Mills East as phenomenal.  
"It shows what kind of administration we have," Gage said, "to have a new field on campus and something that our guys and our students can be really excited about." 
The new field at Owings Mills East means that the Mustangs will not have to drive 25 minutes to Sugar Field, their previous home field that they shared with the Park School for the past 11 years.
While they remain thankful for the memories created on their now-former stomping grounds, they are excited to be able to have an official home on campus.  
"We love Sugar Field, and that has been home for [my] four years," Brandt said, "but we are excited to experience a complex of our own."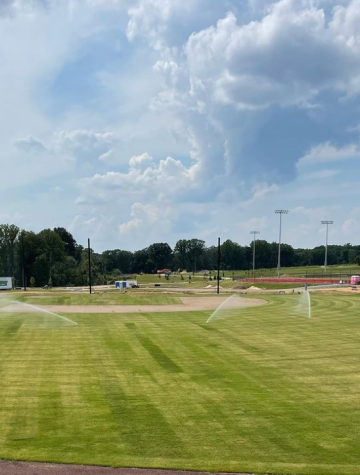 "It has been a long time coming, and it came out beautiful," Reich said. "We are excited to get our first season on it." 
"We've obviously played at Sugar Field and treated that as home," Gage said, "but now we have a home, and we are excited for that to be home. "Anytime you move into a new home, it is the greatest thing in the world." 
An Expectation
With a new home field and the veterans back for one last rodeo together, the Mustangs are confident that 2023 will be a turnaround season and an entertaining one for fans and peers to watch. 
Players said Stevenson's dream season will rely on consistency at the plate, on the mound and in the field. 
After dropping both games of their doubleheader this past Saturday at Marymount University, the Mustangs will look to rebound as they debut on Owings Mills East Friday, Feb. 24, at 2 p.m. vs. Urisnus. 
Donate to Stevenson Villager
Your donation will support the student journalists of Stevenson University. Your contribution will allow us to purchase equipment and cover our annual website hosting costs.
About the Contributor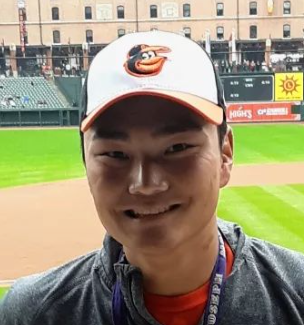 Grant DeVivo, Sports Editor
Grant is a senior from Westminster, Maryland. He served as the Villager's sports editor in 2022-23 after being on staff in 2021-22. He attended Mount St....