KENNY'S MIRACLE ON ICE
Stevenson men's ice hockey goalie helps Team USA to a silver medal finish at international university games
A "miracle on ice" – that is how Ryan Kenny described his visit to Lake Placid, New York last month, and his experience was nothing short of the description.  
Kenny, a Sparta, New Jersey native, and a senior goaltender on the Stevenson University hockey team, had an unbelievable experience this January. He was selected to play for the USA men's hockey team during the FISU World University Games from Jan. 12-22. in Lake Placid, New York. Which is one of the most iconic ice hockey towns in the world, the place where the 1980 "Miracle on Ice" occurred. 
The 1980's Winter Olympics was very important for the history of USA hockey, when they beat Russia and then Finland to take home the gold medal. 
Kenny's coach nominated him at the beginning of the year before Stevenson's hockey practice, and a couple months later when he was selected, he was extremely excited.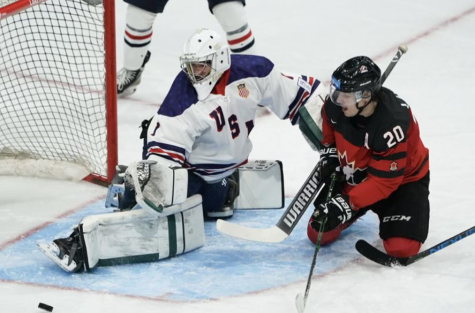 "I was extremely humbled, whenever you get the chance to throw on the colors of your nation you don't say no to that," Kenny said. It was shocking but I knew one day it would happen because I really believe in myself."   
Kenny's teammates were also enthusiastic about his selection.  "All the boys were pumped for him; he works day in and day out and strives to be the best he can," sophomore winger Graeme Mccory said. "For him to get the recognition and be selected, the guys were extremely proud and excited. Playing for Team USA is a big deal and he was definitely deserving of the selection."  
Kenny explained that playing his first game, draped in America's red, white, and blue was "kind of crazy, the crowd was buzzing and chanting U-S-A. it feels like you were living in a dream."  
During this tournament, the USA team played Great Britain, Korea, Slovakia, Kazakhstan, Hungary and Japan, and finally Canada in the gold medal game. The USA ended up falling to Team Canada (which had seven NHL draft picks) 7-2, leaving Team USA and Kenny to collect  their silver medals. 
"It was incredible and better than I could have ever imagined it," Kenny said. "Away from the hockey side, we got to see downtown Lake Placid and the ski jumps from the 1980 Olympics. It was overall such a great experience and so humbling, I would do it all over again if I could."  
Kenny's biggest takeaway from his 10 days spent in Lake Placid:  
"Always believe in yourself and respect all, and fear none." 
Donate to Stevenson Villager
Your donation will support the student journalists of Stevenson University. Your contribution will allow us to purchase equipment and cover our annual website hosting costs.