'STANGS IN THE SUNSHINE
SU Women's beach volleyball continues their hot streak with a 7-1 record in their Spring Break Florida trip 
Stevenson women's beach volleyball took their talents down to the Sunshine State over Spring Break where they improved their already impressive 7-2 record to 14-3 and hope to keep that momentum going in Georgia this weekend. 
The 'Stangs left Florida with a 7-1 record over their 8 games, defeating Palm Beach State 3-2, Lake Sumter 4-1, Warner 4-1, Webber International 4-1, Eckerd 3-2, Florida Southern College 3-2, and St. Johns River State 5-0. Their only loss came from host team Saint Leo University, 0-5.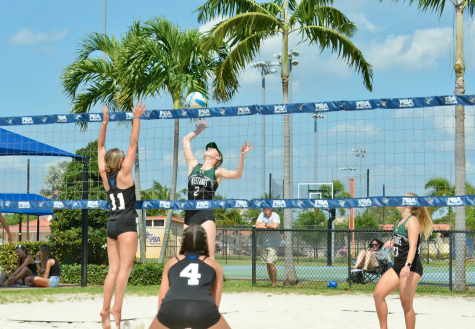 Not only was this Spring Break trip great for the team's overall record, but victories against tough Division II teams in Eckerd and Florida Southern held historical significance for the team and the Stevenson women's beach program.  
"We've unfortunately never been able to beat those Division II's in program history, so coming into it we wanted to just play the best that we could," said Taylor Jones, a senior defender who teams up with Shannon Baily to form No. 1 pair. "We were down both matches so actually coming back and winning both for the first time felt amazing and let us know we can compete with anyone." 
In 2016, Stevenson became the country's first NCAA-sanctioned Division III beach volleyball program. Because so few schools have a program, Stevenson hosts one of only eight Division III programs in the country with an official women's beach team. With so few D-III opponents to play, beach volleyball gets the unique opportunity to open competition to tough out-of-division NCAA and National Association of Intercollegiate Athletics (NAIA) opponents.
In true Stevenson fashion, the team didn't stray away from the challenge and took their D-II opponents head-on. 
"We never go into a match basing our game off of the other team's records or stats or what division they are," said first-year defender Miranda Mueck, who plays with blocker Rileigh Kimball as the No. 2 pair. "We like to go in with the same mindset every time to just take care of business."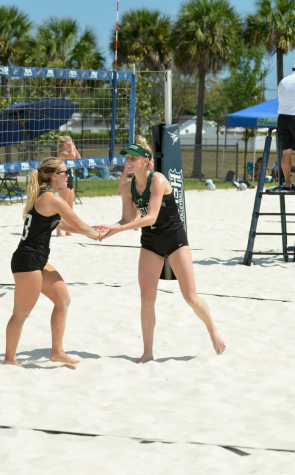 The Mustangs faced Eckerd first on Thursday, March 16 in a tightly contested match. No. 4 pair Hannah Naja and Maddie Clouser battled in three long sets and came out on top, winning the third 15-12. The No. 5 pair of Caleigh Bernota and Sam Simmers extended the lead to 2-0 after closing out yet another three-set game, 15-13.  
Eckerd began to mount a comeback when Stevenson's No. 3 pair Makala Thompson and Nicolette Fuglestad lost a back-and-forth 2-1 game. No. 2 pair of Rileigh Kimball and Mueck fell in their match two sets to none. With the match knotted up 2-2, the reliable No. 1 pair of Jones and Shannon Baily secured the historic victory for Stevenson in a nail-biting third set, 15-13. 
On the following Saturday, the Mustangs took on the Moccasins on their last day of competition before returning home to Owings Mills. Bernota and Simmers kicked off the match taking Florida Southern to the third set where they won 15-11. Thompson and Fuglestad battled hard in both sets but after losing the first, they couldn't recover and lost the second 23-21.  
Naja and Clouser fell in a tightly contested match in the third set 15-11. The match came down to No. 1 and 2 pairs of Baily and Jones and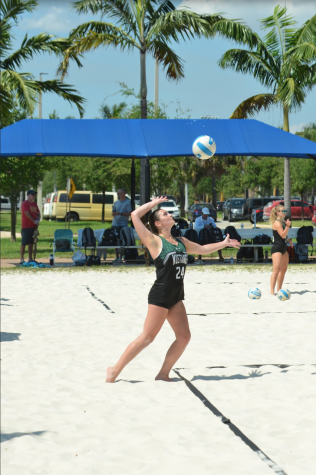 Kimball and Mueck who closed it out with a bang, both sweeping the pairs from Florida Southern and securing yet another historic victory over a D-II program, 3-2. 
With only three tournaments left before the AVCA Small College Beach Championships, the Mustangs are hungry for more wins, and eventually a championship trophy. 
The women continue competition this weekend down at Berry College in Rome, Georgia, where they'll face Huntingdon and LaGrange College Friday at 8:15 and 10 a.m. On Saturday, they will face East Texas Baptist University and the hosts at the same start times.  
*All photo credits go to Brett Adams, 03/12/23*
Donate to Stevenson Villager
Your donation will support the student journalists of Stevenson University. Your contribution will allow us to purchase equipment and cover our annual website hosting costs.