MR. PERSEVERANCE
Stevenson right-handed pitcher Sam Downs has overcome arm injuries to compile his best collegiate season in 2023
Sports injuries are never fun to deal with, and the recovery back can be a long journey. However, the moment that an athlete returns to the field after a lengthy setback is arguably one of the best feelings that an athlete can have. 
Fifth-year Mustangs pitcher Sam Downs has had to endure that long road back to the mound, and he is now in the middle of possibly his best collegiate season thus far. 
Downs, a Frederick, Maryland native, initially sustained the injury to his throwing arm in October 2020. Doctors told him that he had elbow inflammation. He worked with Stevenson's trainers and his personal physical therapist to fix the injury, but he still faced arm issues and he only threw 5 1/3 innings in 2021, his junior season. After the season, an elbow specialist re-examined his original MRI and found a tear in his ulnar collateral ligament (UCL). 
In June of 2021, he went under the knife not knowing how extensive his surgery would be.    
There are two types of Tommy John surgery. One is a full replacement of the UCL, and another is a smaller repair operation. Heading into surgery, he did not know which version of the surgery that he would receive. He said that was the scariest part. 
"You don't know which surgery you are even getting [beforehand]," Downs said. "If I got the full replacement, then that's another four months added onto the [recovery] timeline. That, to me, was pretty scary."  
Downs was relieved when he woke up after surgery and the doctor told him that he received the less invasive repair surgery.  
However, a long recovery was still inevitable.  
Downs was slated to miss 6-9 months. 
He would have to wear a brace. 
The degree of movement in his arm would change every month.  
He would not be able to escape a snail-paced throwing program which includes throwing progression by distance. 
Every step along the way was designed to completely rebuild his arm strength.
The recovery lasted into Downs' senior season, 2022, in which he says was back-and-forth between feeling healthy and not feeling healthy. He admits that he rushed back to pitch for his team, saying that he wanted to return as soon as possible to help the Mustangs get back to winning baseball. The Mustangs finished the 2022 season with a 14-25-1 overall record. Downs got into four games, tossing just 4 2/3 innings. 
Downs says that arm injuries are very mentally challenging, perhaps more so than other injuries. 
"It is not affecting anything else," he said. "Your body is fine. You just can't throw. It was something that was hard to work through."  
However, he let his love for the game and his devotion to returning to the mound drive him towards finishing the recovery.  
"It depends on how much you love the game. I did not want to give [baseball] up." 
Downs also said that he wanted to return to the success he had prior to the surgery. He was already making an impact on the mound for the Mustangs before the operation. In his first two seasons of college baseball, he tossed 46 2/.3 innings with a 2.34 ERA and 31 strikeouts before the COVID-19 pandemic and his arm injury derailed his progress. As he endured the recovery and prolonged arm troubles, he saw himself pitch in just 10 innings in his junior and senior seasons. That came with a 13.50 ERA and 10 walks.  
"I already had success when I was younger, and you are supposed to get better as you progress," Downs said. "That is why my senior year for me was such a struggle because I was not having the same success even though I was medically cleared. I wanted to be as successful as I possibly could. Going out there and giving up hits and runs that I would not normally give up was just really frustrating.  
"I knew that I could help the team, and that is something that I pushed myself to make sure that I could do," Downs said. 
Downs is now fully healthy and back as a fixture in the starting rotation. This has arguably been his best season as a Mustang. He has made nine starts (46 1/3 innings) and holds a 4-2 record. He has a 2.23 ERA along with 62 strikeouts, and opposing hitters are hitting just .175 against him. His best start came April 16 at Albright. Downs allowed just one hit through 6 innings, striking out 6 and allowing no runs. His fastball is back in the mid to upper 80s and he backs up his heater with a filthy curveball and changeup.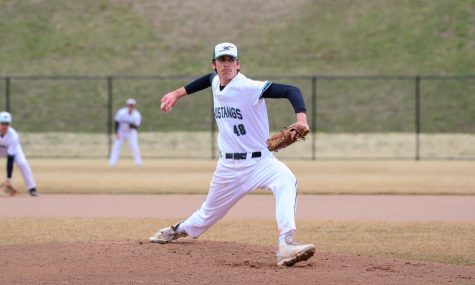 It is easy to say that Downs is beyond thrilled to be back full time, and he wants to live up to his full potential.  
"This year has been completely different emotionally," Downs said of this season. "All I wanted to do is prove that I could do it. The last two years, I've had double digit ERAs when I was injured. This year, I just wanted to go out, do the best I can, and show that [my struggles] were from the fact that my arm was hurt and not just that I was not what I was supposed to be." 
"When you finally get back on a field, it's amazing," Downs continued. "It seems like everything is finally coming into fruition." 
Downs is impressed with his team's performance this season, and he feels glad to be a part of a competitive Mustangs crew again. The Mustangs are currently 17-18 with a 10-11 conference record, and that is a significant improvement from their 15-25-1 record the previous year. They are fighting hard for a playoff berth and the outcome of this weekend's conference series vs. Eastern will play a huge role in if they make the postseason or not.
They close the regular season this weekend with a crucial three-game set against Eastern, starting with a 3:30 p.m. game Friday at Owings Mills East. 
"[The guys and I] have been having some success on the field," he said. "Being able to be a part of a team again is amazing." 
Downs thanks his physical therapist for helping him throughout the whole two-year recovery process and for sticking by his side. He also thanks Gage and his teammates for their continued support.  
"One thing you need to have is your coach's support, and he absolutely 100% gave it to me," Downs said of Gage. 
Gage weighed in on the excitement of having Downs back. He saw Downs' progress every step of the way and he knows that his journey back to baseball was far from easy. 
"It shows who Sam is as a person and what he has come back from," he said. "Coming back from [Tommy John surgery] is mentally and [physically] tough. Sam worked extremely hard to get back to this point. I am excited for him to be able to experience his final season in college baseball." 
Downs is also very thankful for the support that he received from his friends, and family.  
"I did not want to [give up], but I needed that background support telling me to keep going," Downs said. 
Downs knows that there are tons of other athletes going through a similar situation like his, but he did not want to be the one who would walk around saying "I could have, should have, would have."  
So, he had this to say to those dealing with sports injuries.  
"You cannot give up because something seems hard," he said. "You have to persevere when things are difficult because you'll regret it later if you do not. If your body just cannot physically handle it, that is one thing, but [otherwise] you cannot give up. You only get so many chances, and you are only this age for a certain period of time. You might as well fight while you can." 
Donate to Stevenson Villager
Your donation will support the student journalists of Stevenson University. Your contribution will allow us to purchase equipment and cover our annual website hosting costs.
About the Contributor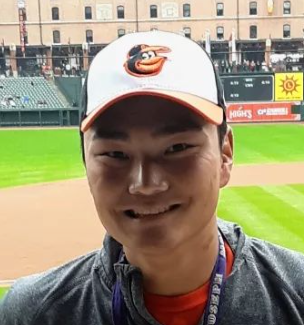 Grant DeVivo, Sports Editor
Grant is a senior from Westminster, Maryland. He served as the Villager's sports editor in 2022-23 after being on staff in 2021-22. He attended Mount St....