The newly reconstructed Manning Academic Center on Stevenson's Owings Mills North campus was officially dedicated in the name of President Emeritus Kevin J. Manning, Ph.D. on April 18, 2017.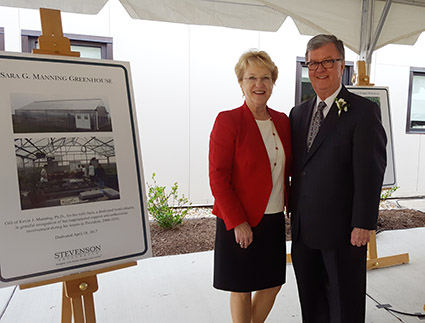 James B. Stradtner, CFA, chairman of the Stevenson University board of trustees, served as master of ceremonies on a day filled with many transformations, calling the Manning Center the "capstone project" of the outgoing president.
Speakers included Claire Moore, interim president, who talked about the many ways the university has been changed under the leadership of Dr. Manning, and Sara Manning, Dr. Manning's wife, after whom a new greenhouse behind the Manning Center has been named. She said she was "touched and honored"  by the decision and would miss her time at Stevenson.
PORTRAIT UNVEILED
A portrait of Dr. Manning by artist Katherine Meredith was unveiled, and copies of it were distributed on small cards to the audience. The portrait will hang in the lobby of the Manning Academic Center.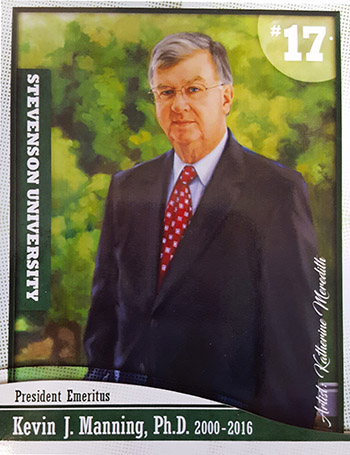 Samuel Dell III, a member of the board of trustees, also spoke about the new Dell Family Pathway, a 577 foot  boardwalk and footbridge stretching from the North site to the Owings Mills campus that will open some time in May, and acknowledged how significant it was for his family to have a small part in the transformation of Stevenson. "The pathway," he said, "is a metaphor, connecting academic and residential spaces" across the campus. Dell also noted how fitting it was to have the Dell Family Pathway begin where Ted Herget Way ends, connecting the two board of trustees members visually and in spirit.
PARTING WORDS
Finally, Dr. Manning spoke, talking about what a privilege it has been for him to serve at Stevenson, and noting that this would be one of the last times he'd get to stand in front of the Stevenson community and speak.
"The hallmark of my career has been my work at Stevenson," he said. He acknowledged the work of the board of trustees, of CFO Tim Campbell, of builder Howard Brown, and of those whose name has been given to some of the schools housed within the Manning Center, Sandra R. Berman and Beverly K. Fine. He concluded by thanking everyone for taking this journey with him.
A reception just outside the Center followed the ceremony. Students, faculty, staff, alumni and guests mingled or chose to take a tour of the renovated building.