Stevenson athletes went from the athletic field to the green carpet for an elegant evening on Sunday, April 30, to celebrate the first annual Mustang Gala: Presenting the StevieU Awards.
The athletic department and the Student Athlete Advisory Committee (SAAC) collaborated to present a revamped version of the annual athletic banquet. Although this awards banquet has been going on for 22 years, this is the first year of the Mustang Gala.
Held in the Owings Mills gymnasium, the event highlighted the talent players demonstrate on the field, and also awarded them for their success in the classroom.
This event is geared toward recognizing seniors, bringing back alumni and celebrating the success of the teams in the past year.
"We [SAAC] felt that this event, in the past, wasn't very exciting for the athletes, so we changed it into a more formal event like a Gala, instead of just a banquet," said SAAC president John D'Aquanno. "We were really proud to sell out in the first year and everyone seemed to have a great time. I'm looking forward to coming back as an alumni to next year's Gala," added SAAC VP of Communications, Kristen Brooks.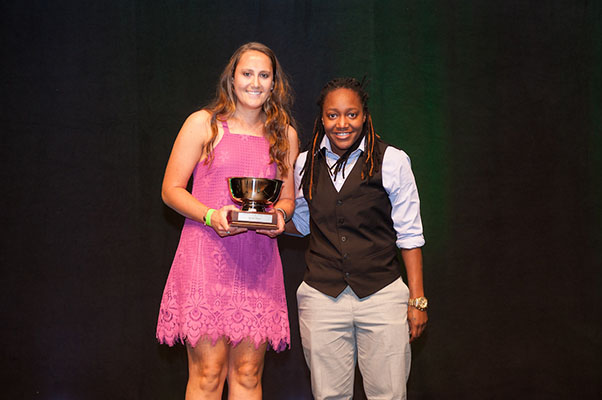 This year the Gala offered live interviews, more awards, video presentations, a silent auction and a buffet dinner. Not only did varsity athletes attend, but their families, friends and alumni could as well.
New awards presented this year included Play of the Year, Moment of the Year and the Fran Fidler Spirit Award.
"I liked the Gala this year and look forward to it next year," said Play of the Year award winner, Brittany Celano. Every award winner and senior was presented an engraved plaque on stage. Each of the 27 teams also named one Most Valuable Player. Many other awards were given out as well and are listed below, along with the award winner. The success of the student athletes, not only on the field, but in the classroom, was acknowledged and celebrated during this elegant night.
Award Winners
SAAC Staff/Faculty Appreciation- MC McFadden 
SAAC Most Outstanding Male Athlete- Nate Ellis (men's volleyball)
SAAC Most Outstanding Female Athlete- Emily Haas (women's golf)
Dick Watts Male Transfer- Kyle Weidemeyer (baseball)
Dick Watts Female Transfer- Elizabeth Kamosa (women's swimming)
Highest Women's Team GPA- women's swimming
Highest Men's Team GPA- men's ice hockey
Play of the Year- Brittany Celano (women's soccer)
Moment of the Year- Football 
Alumni Award- Trey Shackleford
Fran Fidler Spirit Award- MC McFadden
Highest Male GPA- Raymond Hastings (football)
Highest Female GPA- Emily Haas (women's golf)
Senior Male Athlete of the Year- Austin Tennessee (football)
Senior Female Athlete of the Year- Sara Tarbert (women's basketball)
NCAA Women of the Year- Emily Haas (women's golf)
Fighting Heart- Brady Heher (women's lacrosse)