Both Stevenson University men's and women's track teams have made great strides this season, recently returning from the Penn Relays and now preparing for the Middle Atlantic Conference (MAC) championships.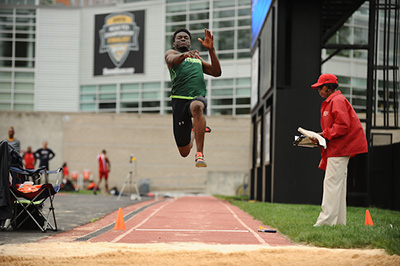 Head coach Erick Camodeca has nothing but positives to say about the success and accomplishments of his team this season.
"The success we can attain is limitless. Every meet, every year brings new opportunities and firsts for this program and the university. This season's success is being realized outside of the Stevenson community, which has been very meaningful for our program on multiple levels, especially recruiting. Other collegiate programs are noticing our success and impact in the track and field community."
At the end of April, the women's 4×4 team won their event at Penn Relays, an accomplishment described by Camodeca as "something many dream of." The women's team placed two national qualifiers, a first for the program. The men's team has immense depth and, according to Camodeca, is one of the fastest relay teams in the country.
Camodeca hopes to see his team competing for national titles on both men's and women's side within the next five years. He sees this program growing fast and bringing in talented athletes each year.
Freshman Leigh Sewell has had an incredible first year experience.
"Coming into this season I didn't know what to expect. There were a lot of high hopes for the women's team since the program expanded. Leading up to the first meet everyone started to see each other's potential and at the first meet we all did an amazing job! Track and field is something I picked up over five years ago and have been in love with it ever since. I am overjoyed that I took advantage of the opportunity to come to Stevenson and become a part of the track team. The program and the coaches are amazing. We are continuing to grow, work hard together as a team, and achieve the goals we desire to meet, and have the potential to meet. I am looking forward to the years to come, and the time I will spend on this team."
Although the season is not over yet, both teams and coaches know the future looks very promising.