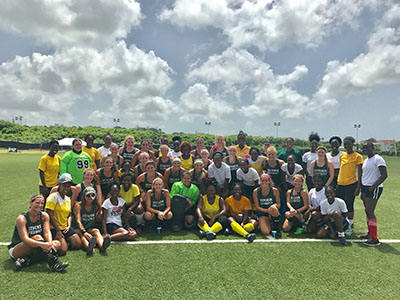 The Stevenson University field hockey team is off to a hot start this season after training in Barbados during preseason. The Mustangs have won two  of their first three contests and are feeling good heading into the heart of the season.
In a unique preseason, the team had new experiences and new opportunities to grow their game.
"They have a whole different atmosphere of hockey down there, so it was great to play against a different type of competition than we're used to," said junior forward/midfielder Ashley Meyer.  Unlike most teams in the MAC Commonwealth, the Mustangs were competing in tournaments and games every day in Barbados to prepare for the season.  "We gained an advantage being able to play these games because we were able to get a feel of the way we play with our teammates," said Meyer.
The Mustangs had a strong start this season, earning back-to-back victories coming against McDaniel College and St. Mary's College.  Coach Laurel Martin said that she was very pleased with the team's performance the opening weekend.  The Mustangs defeated McDaniel 3-1 in their season opener, and followed that victory up with a 3-0 shutout of St. Mary's.  Their third game against Salisbury University was postponed due to weather.  This early success is what the team expected after their preseason experience.
"There is heart and hunger in every player; this time around we truly are a unit," said senior captain Kali Martin.
The team has experienced a good balance of talent from both returnees and the first-year class.  Kali Martin said, "I'm expecting a lot from this particular group of girls.  With every passing game we've improved and grown substantially."  In the first three contests of the season, the Mustangs' offense has been quite balanced.  Sophomore Tanner Ridgley and junior Sarah McVey have both contributed to the goal scoring.  Freshman Noel Martin leads the team with three goals, while freshman Brigid Saroch has scored two.  Ridgley currently has a point streak of three games.
On defense, the team is led by goalkeeper Kelsey Eure, who has been the starting goalie in all three contests so far, including winning a MAC Commonwealth Defensive Player of the Week award.  Defensively, in front of Eure are two upperclassman, senior Abigail Provost and junior Marissa Hoffman.  Both have started all three games for Stevenson. "Kelsey and Marissa worked with each other last year, so they're familiar with each other and the language," said coach Martin.
The Mustangs are confident that they will be able to continue their winning form as the season progresses.
"It's going to be an incredible season for Stevenson field hockey.  You can count on that," said Kali Martin.  The Mustangs return to play Thursday, Sept. 14, at Mustang Stadium at 7 p.m. against Goucher College.