Scholarship program shapes campus leaders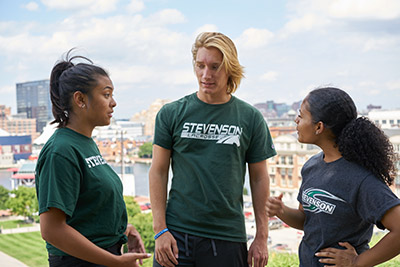 A new scholarship at Stevenson University offers new students a chance to build on their leadership skills.
Starting in the fall of 2017, the Leadership Scholars Program is beginning as a four-year renewable scholarship offered to new students to assist them in developing additional leadership skills.
The admissions staff at Stevenson University asked Daniel Schwartz, director of student activities, to oversee the program. Schwartz has a keen interest in helping to develop student leadership skills and has done so by advising the Student Government Association and the Male Initiative of Leadership and Excellence (M.I.L.E.), an all-male group that prepares men for their future after college.
Along with Schwartz, other administrators and faculty members are helping with the program, including the dean of Humanities and Social Sciences, Cheryl Wilson, and Ryan Clark, program coordinator and assistant professor of theatre.
Schwartz wants to emphasize the Leadership Scholars Program's motto, "Leadership through action, not through position."
"Many people believe that if you hold a leadership position, you are a leader, but you can be the quieter, introverted person in the group that follows and listens and still be a leader even if you don't hold a position. Communication is key to be a leader," said Schwartz.
Imani Kassembe, one of the program's recipients, found the idea appealing to her not only because of the scholarship being awarded but she also likes being involved in a "group of people interested in helping the community and starting new things."
Kassembe said that the program will help her develop "confidence in her skills as a leader," since, she added, "I know I have leadership skills, but I prefer to take the background role." Since the start of the school year, she has gotten involved with the marching band, the women's tennis team, and the Black Student Union Gospel Choir.
Students in the program must first apply to Stevenson University and fill out a separate application for the scholarship. After applying, students must go through an interview process to be accepted to the program and receive the scholarship. The award is an additional $2,000- renewable up to four years. Recipients of the Leadership Scholars program also receive a Founder's Scholarship –an additional $2,000– renewable up to four years, adding a total of $4,000 renewable up to four years on top of their Stevenson University Merit Scholarship.
The Leadership Scholars Program is offered only to new traditional undergraduate and transfer students at Stevenson University. However, Schwartz said, "We are still trying to figure out how to get current students involved with the program since [now] it can only be offered to new traditional and transfer students."
In exchange for being accepted to the program, students will have to attend meetings and classes involving leadership development. They will also need to conduct 30 service hours a year to stay in the program and must attend a "pre-approved regional or national student leadership conference," according to the Stevenson University website.
Schwartz said, "The Leadership Scholars Program offers a unique opportunity for students as a part of the experiential learning experience offered at Stevenson University to develop themselves to become leaders on and off campus."
Leave a Comment
Donate to Stevenson Villager
Your donation will support the student journalists of Stevenson University. Your contribution will allow us to purchase equipment and cover our annual website hosting costs.