After five straight Middle Atlantic Commonwealth Conference championships and six NCAA tournament appearances, Stevenson University's women's volleyball team is off to one of its strongest starts. With an overall record of 12-1 the team has established themselves as a powerhouse.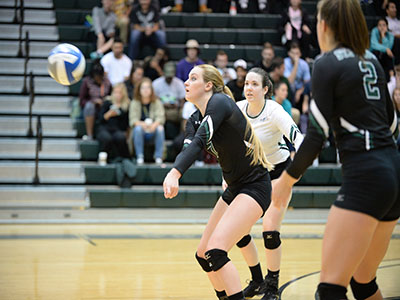 Head Coach Dave Trumbo is in his 11th season with the team and brings more than 20 years of experience to the court. He is assisted by Brent Whitehead, now in his seventh year as a coach, and by Stevenson alumni and volleyball standout Samantha Perillo, in her first year.
The Mustangs are led by seniors Lauren Weaver, Megan Hren, Annika Schwartz and Deanna Bradbury. The leadership on this team are no strangers to success on the court. The team believes that winning a national championship is an achievable goal, but there is one thing more important than winning to Trumbo. At the end of the day, there is nothing more appealing than making sure his seniors graduate with a Stevenson University degree.
To kick off the season the Mustangs traveled to the Seagull Classic and came away with four solid wins against Medaille College, Geneva College, Swarthmore College, and host Salisbury University. Seniors Schwartz and Bradbury were named to the All-Tournament team.
Returning home to face their first Middle Atlantic Conference (MAC) opponent on Sept. 6, the Mustangs downed Messiah College in straight sets. The match marked 41 straight victories in the conference play.
Gaining confidence as the match progressed Trumbo noted, "We really took it to them in that third set. That is when we started playing our kind of volleyball." Schwartz's 12 kills and Bradbury's 12 digs helped carry the team to the win.
Sept. 8-9 the team traveled to Muhlenberg College for the annual Buttermaker Tournament.  Four teams, including SUNY Cortland, Muhlenberg, Virginia Wesleyan University, and Neumann University were all defeated by the Mustangs. Moriah Savage and Schwartz were named to the All-Tournament Team.
A trip to Marymount University on Sept. 13 gave the Mustangs another victory as Schwartz recorded her third double-double in the last four matches, according to gomustangsports.com.
A few days later, on Sept. 15, the Mustangs made their way to the Hampton Inn River Hawk Classic where the team had their first loss of the season to No. 16 nationally ranked Carnegie Mellon University, 3-0.  The Mustangs picked up two more wins against Susquehanna and SUNY Brockport. Savage and Schwartz were again named to the All-Tournament Team.
The Mustangs will be at home on the Owings Mills campus on Sept. 23 as they face off against Catholic University (8-6) at 1 p.m. and again at 5 p.m. against St. Mary's College (3-7).