A seasoned coach, an experienced team, and a winning mentality: the Mustangs show all the signs of a very exciting golf season this fall.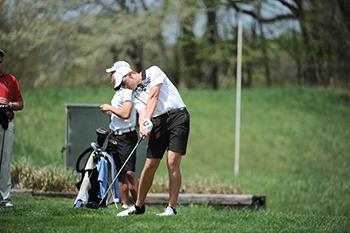 Hopes are high for both the men's and women's teams, with the men starting the season with all those who competed nationally last season returning. Although expectations are high, head coach Chris Ramer isn't changing his mentality.
"My expectations are the same. I want to be competitive. I want us to be a top team in every tournament we enter," said the veteran coach of 16+ years. "The end result is to ultimately win the conference and make a strong showing in nationals, but for now our focus is to be ready for each tournament, every weekend."
Led by senior Austin Fuglestad, the Mustangs are also hoping for big contributions from sophomores Matthew Shur and Andrew Walley. Walley is coming off an All-American performance last year, and both men were national championship competitors in their first collegiate year.
The women's team is also on track for success as senior Morgan Wirtz is preparing for another strong season alongside sophomore teammate Julia Kline, who is looking to step into a larger leadership role for her team in her second year of competition.
Ramer works to make sure his team is not only talented, but also well-rounded.
"I firmly believe that attitude determines altitude," he said. "We have something special here and they're all good people. I look for how they play along with how they carry themselves."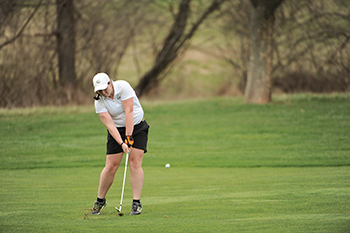 Both teams are striving for a conference title; however, the men's team is especially optimistic that this is their year for a national title as well.
"We have the talent; now it's about how hard we're willing to work and how badly we want it," said junior Chris Miller. "Our off-seasons are big for us. That's the time we get to really work on our swings and fine tune them as much as possible because it's a lot harder to do that during the season," he added.
Stevenson's men kicked off their fall season on Sept. 11 at the Tom Kinder Memorial in Harrisonburg, Va., where sophomore Matthew Maione led the Mustangs in the final round at the Lakeview Golf Club, and finished the tournament with a total score of 155, tying for 38th place. The Mustangs did not have a team score since four players did not complete each round.
In the Elizabethtown Fall Invitational Sept. 19, Stevenson's men won a tiebreaker over Muhlenberg to take the team title.
On the women's side, the Mustangs gave a particularly impressive showing at the McDaniel College Fall Invitational, taking first place behind Wirtz's 82. Freshman Elise Glauser 's 85 was a personal best, tying for fourth place in the tournament.
The Mustangs took third place in the opening round at the Green Turtle Invitational in Front Royal, Va., on Sept. 16, and finished up the next day in fourth place behind Wirtz's 83. She now has 28 career top-five finishes, according to gomustangsports.com.
The team will travel to Harrisonburg, Va., on Sept. 23 for the Bridgewater Invitational at Lakeview Golf Course. The men are headed for the Lebanon Valley Invitational on Sept. 25.